Ok, this is a super duper late mini review of this collection... gosh i have so much catching up to do! :P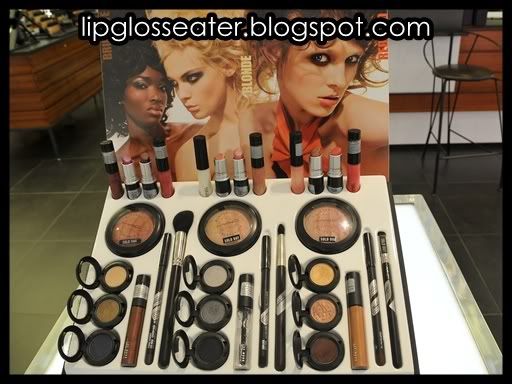 The BBR displayer at the MAC counter in Siam Paragon
I checked out this collection when i was in BKK. I'll have to say that i'm truly disappointed :( I'm sure some of you remembered my enthusiasm for this collection (more so than for the HK collection!!)... i've such high hopes for this because the colors seems so wearable! But after seeing it in person, i left the counter without purchasing anything!
The biggest disappointments were definitely the eyeshadows! To think that i spent sooo much time looking at swatches to narrow down which few that i would buy... in the end, nothing really screamed at me to bring it home! I'm still thinking if i should buy the olive shade Henna, but thats just because i do not have anything similar to it!
The lippies were alright, nothing really special IMHO. If you absolutely HAVE to get something from this line, i'll say get Marquise d', which is a lovely nude for me, and Red Devil, which is a beautiful bright orangey coral! :)
Then comes the MSFs! Now these are a different story! I'm surprised at how smooth they are!! The colors were gorgeous and pigmented!! Most of all they don't scream glitterbombs ahoy as most MSFs are!! I wonder what got into me that i didn't buy any of them (and thou SHALT NOT tempt me, for i am weak... lol!!!)...
Ok, i know the MSFs were SOLD OUT as labeled in the pic! I saw them again at the BKK Airport where the stocks were still available, and i DIDN'T buy them again... What's wrong with me?!!
Lastly, the brushes! To be very honest i'm a little disappointed with them! The 165 wasn't as soft as i've envisioned it to be (ok, that was probably unfair because it has been compared to the 138 alot, and THAT is, hands down, the softest brush from MAC i've ever seen!!). Still, methinks that it'll make a perfect highlighting / contouring brush! The 226 was a little bigger than i thought it would be, so i'm still thinking if it would work for my narrow crease or not! The 214 is a great brush for lining / packing on colors, but honestly if you have the 219, i don't see why you should get this one (unless you're buying for collection's sake! Hehehe!!)! :)
So that's it... my thoughts on this collection! And i repeat,
DO NOT TEMPT ME
to buy the MSFs!!
*chants I don't need them, I don't need them, I don't need them, lalala!!!*
lol!!!!
Didcha get anything from this collection? I know some of you did! :D