At a Glance:
Price:
RM40.50 / US$6.25
Website:
Etbrowne.com
Weight:
125g / 4.4 Oz.
Made in:
USA
Likes:
Effective, moisturizes well, sinks in quickly!
Gripes:
The horrible cap, somewhat overpriced in Malaysia!
Repurchase:
Yes!!
Jenn's Rating:
4.5 Stars! Me Likey! :D

Ingredients:

Water (Aqua), Theobroma Cacao (Cocoa) Extract, Glycerin, Glyceryl Stearate, PEG-100 Stearate, Isopropyl Lanolate, Isopropyl Palmitate, Propylene Glycol, Dimethicone, Lanolin Alcohol (Lanolin), Stearic Acid, Bentonite, Theobroma Cacao (Cocoa) Seed Butter, Mineral Oil (Paraffinum Liquidum), Microcrystalline Wax (Cera Microcristallina), Cetyl Alcohol, Stearyl Alcohol, Tocopheryl Acetate, Soluble Collagen, Hydrolyzed Elastin, Diazolidinyl Urea, Disodium EDTA, Methylparaben, Propylparaben, Limonene, Linalool, Caramel, Fragrance (Parfum).

Product Description: Palmer's Cocoa Butter Formula Massage Cream for Stretch marks helps prevent stretch marks with a special combination of COCOA BUTTER, VITAMIN E, COLLAGEN and ELASTIN. It lubricates the skin to help it retain its natural elasticity and moisture. This non-greasy cream relieves the dryness associated with stretched skin due to pregnancy and smoothes stretch marks due to weight loss.



CAUTION:

As you may know, skin sensitivity heightens during pregnancy. Discontinue use if signs of irritation or rash appear. If irritation or rash persists, consult your doctor. Clinically and dermatologically tested.

Clinically proven to increase skin's elasticity, which helps prevent and reduce stretch marks.

Actual Product Pic:
The Box it came in:
Texture & Scent: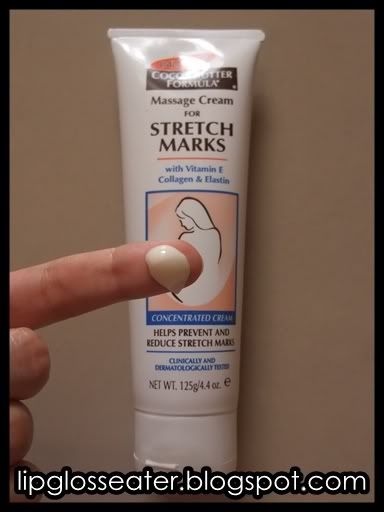 This cream is quite buttery, and it spreads on smoothly unto your skin. Though it is a cream (which i assume would be thicker than the lotion), it is rather light and it sinks into your skin quickly. It is a little sticky upon application, but that feeling disappears quickly. This being a cocoa butter cream, smells of, well, cocoa butter (lol!)! I'm glad that the scent is fairly light, unlike the Cocoa Butter range from The Body Shop which is quite overpowering! :P
Packaging:
This cream comes in a squeeze tube with a flip top cap. I much prefer it to come in a pump though, because the tube can get a little greasy after a few uses! :P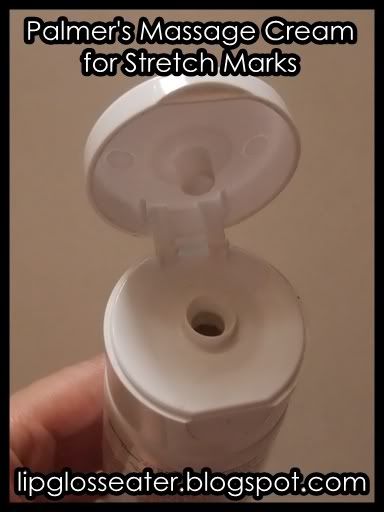 The cap, which i really hate. The "tip" on the cap is a little too small for the hole, so everytime you close the cap, it causes some of the cream to overflow unto the lid and around the hole:
Messy!!
Time Test:
This cream takes about 5-10 minutes to sink in completely, and the area remains moisturized for 8-10 hours! It took less than 2 weeks for me to notice a difference.
Price & Availability:
This cream is priced at RM40.50, which i think is a little overpriced considering that this only goes for US$6.25 per tube!! It is available at most Guardians and some Watsons outlets.
Usage:
I use this on my problem areas (thighs and butt) twice a day.
My $0.02:
I was a pretty scrawny kid back then, until i discovered the joys of having a McDonalds outlet 5 minutes away from my school! lol! My parents never liked us eating too much junk food so naturally trips to McDonalds are far and few in between! Imagine my glee when i get to down as many Double Cheese Burger meals as i like in a week without my parents knowing (and nagging... yadayadayada!)! Of course, nobody told me (and i couldn't careless at that time) that McDonalds is VERY fattening, so it's no surprise that i go from 36 to 52kgs within half a year (and yes i know, that excess baggage more or less remained until today, thankyouverymuch! hahaha!!)! Such rapid growth of course spells bad news for my skin, and after more than 10 years later only did i know what those ugly marks were!! *cringes*
After doing some reading, it seems like if your stretch mark is white or darker in color than your skin, there is nothing much you can do about it. But if yours is red, there is a chance of recovery. I scrutinized mine and saw that they were FLESH COLORED!! So what does that mean?! lol! -___- Nevertheless i bought a tube of the much raved about Palmer's to try... and am pleasantly surprised by it! :D
I like how it isn't very sticky and also that it doesn't have a very strong scent! After one application, i noticed that the area becomes very smooth and plump (even my husband noticed it! hehe!!). After a week or so, i noticed that my stretch marks started turing RED in color! Are they healing or what?! So maybe what i've read about the colors of stretch marks is true!!
And after using it religiously twice a day for 3 weeks (i'm almost running out already!), i personally think that it DOES make a difference, though there's still lots of improvement to be done!! (I don't blame it.. in fact, i should be really thankful if any improvement can be seen at all since i've only tried to treat it after so long!! :P)
Ok, enough talking! Here're some pics for you to judge for yourself:
WARNING: GROSS PICTURES AHEAD! Do not proceed after you've had your meals!!
This is before: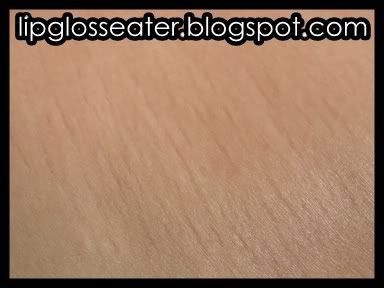 And this is after using this cream for 3 weeks: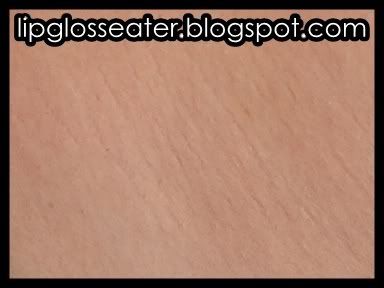 As you can see, my skin became really smooth, and the stretch marks were somewhat reduced!! Yeah! :D
Well, i personally think that it's gonna take awhile to get rid of them, so i'll definitely continue using this cream until they do lighten until the extend that i cannot see them with my naked eye! lol!! Is that even possible? I don't know... but i'm willing to try! hahaha!!
ps: My mummy, being a true Shanghainese, is blessed with the most amazing skin... she has ZERO stretch marks even after having 3 babies (a very large no.3 at that, lol!)!! She even had the cheek to laugh at my stretch marks while flaunting her smooth flawless tummy!! Argh... why oh why didn't i inherit her good skin genes!! :'(
Credits: Product photo from Etbrowne.com.