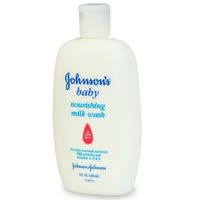 At a Glance:
Price:
RM7.20 (approx. US$2)
Website:
Johnsonsbaby.com
Weight:
200ml
Made in:
Malaysia
Likes:
Lovely smell, not drying, cheap, easily available! :)
Gripes:
None
Repurchase:
Yes! :)
Jenn's Rating:
4 Stars!! Me Likey!!
Ingredients:
Water, PEG-80 Sorbitan Laurate, Cocamidopropyl Betaine, Sodium Laureth Sulfate, PEG-150 Distearatem, Sodium Lauroamphoacetate, Styrene / Acrylates Copolymer, Sodium Laureth-13 Carboxylate, Acrylates Copolymer, Tetrasodium EDTA, Citric Acid, PEG-45M, Hydrolyzed Milk Protein, Tocopheryl Acetate, Retinyl Palmitate, Methylchloroisothiazolinone, Methyllisothiazolinone, Fragrance.
Product Description
:
Experience the double nourishment of new Johnson's baby milk bath with natural milk protein and Vitamins A&E. Gently cleanses while leaving skin feeling baby-smooth and fair. Best use with sponge for an enriched lathering experience.

USE UNDER ADULT SUPERVISION.
Actual Product Pic:
Texture & Scent: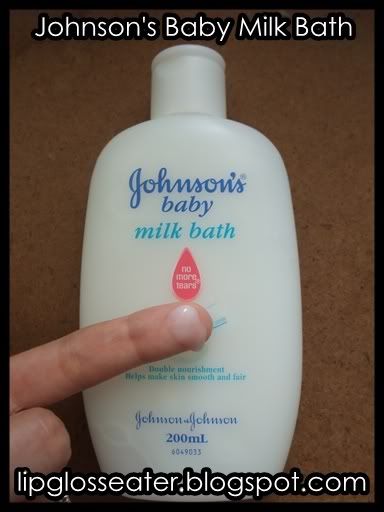 This shower gel is just slightly thicker than your usual shower gels, so you do get luxurious foamy feeling! lol! The scent is rather similar to their other products, which is a lovely mild powdery scent which i really like! :)
Packaging:
I bought the smallest one available, which is the 200ml one that comes with a flip top cap. There is another bigger 1000ml with a pump available for sale. Refill packs are available too! :)
Price & Availability:
This shower gel is priced at RM7.20 for 200ml, which is rather cheap! :) The 1000ml pump version costs RM19.90, and both should be available at most supermarkets and Watsons / Guardian outlets! :)
My $0.02:
This is one of my favourite shower gels! :D I love how i didn't get the tight feeling after showering with this - in fact, my skin feels rather moisturized after using this! Also, i love the soft scent!! You can't beat the price either! :)
So all in all, this is a great affordable shower gel that i would recommend everyone, except those (like my husband) who dislikes the "moisturized" feeling on their skins after showering! lol! :D
Credits: Product photo from Savings-for-baby.com