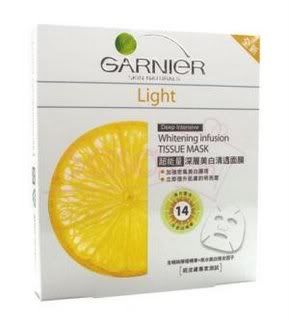 At a Glance:Price:
RM8.90 each (approx. US$2.40)
Website:
Garnier.com
Weight:
27ml
Made in:
China
Likes:
Refreshing, absorbs into the skin quickly, does brighten the skin!
Gripes:
Could be a little more moisturizing, lofty whitening claims not really true!
Repurchase:
Yes, but not before trying out other masks!!
Jenn's Rating:
3.5 Stars! Ok product!! :D
Ingredients:
Aqua / Water, Butylene Glycol, Glycerin, Ascorbyl Glucoside, Citrus Limonum / Lemon Fruit Extract, Morus Bombycus / Morus Bombycus Root Extract, Scutellaria Baicalensis / Scutellaria Baicalensis Root Extract, Nelumbo Nucifera / Nelumbium Speciosum Flower Extract, Citric Acid, PEG-60 Hydrogenated Castor Oil, Sodium Citrate, Tetrasodium EDTA, Xanthan Gum, Imidazolidnyl Urea, Methylparaben, Parfum / Fragrance, Benzyl Salicylate, Linalool, Limonene.
Product Description



Garnier Light

introduces the upgraded

Whitening Infusion Tissue Mask

. Now, containing as much product as

14 days of whitening care

*, its intense whitening action helps instantly boost skin's luminosity, makes dark spots less visible, skin is fairer and more transparent.

The soft tissue mask is improved with moderate thickness and a better cutting design for good penetration. It contains:

Pure lemon essence + vitamin C

known to lift off dull skin, lighten skin tone and boost skin's radiance

Hydro-white complex

soothes and replenishes the skin
Leave the mask to diffuse its benefits onto your skin for 10-15 minutes, and enjoy a true moment of well being that makes your skin feel rested, fairer, and glowing with health.
* Product quantity
Actual Product Pic: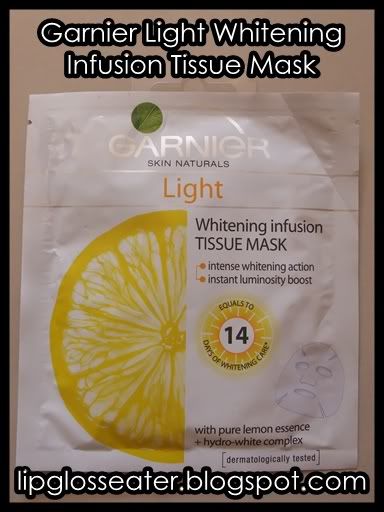 Texture & Scent:
This mask is really moist!! The mask is actually still rather moist after 15 minutes... i even rub the used mask all over my neck, chest, arms and legs and it's still quite moist!! lol!! After removing the mask, there is a sticky feeling! But the good thing is, this mask sinks in REALLY fast, so when the mask is absorbed into your skin, the stickiness disappears! :) This mask has a rather strong citrusy smell which I'm alright with, but i have a feeling that some of you girls may find it a little cloying! :)
Packaging: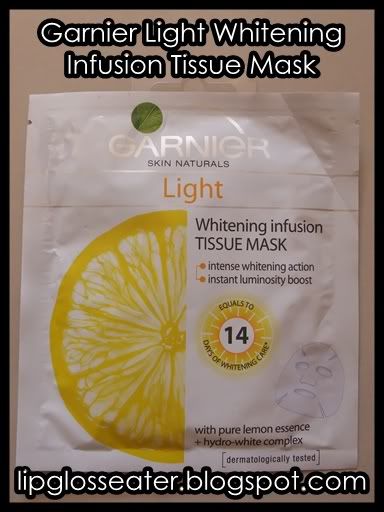 This mask is individually packed into a foil wrapping! There's also a box set, but i cannot for the life of me remember whether its a 5-in-1 or 2-in-1 box, so sorry for that! =X
This sheet mask is indeed slightly thicker than the usual sheet mask, which i really appreciate because it is so much easier to unfold without the risk of tearing it!! :D It fits on my face rather nicely too! Here's how it looks on my face:
Do NOT feed the troll, lol!! I look so scary!! hahaha!! XD
Time Test:
10-15 minutes is all you need to use this mask! :)
Price & Availability:
This mask is priced at RM8.90 each, and should be available at most Watsons / Guardian outlets!
Usage:
I usually use my sheet masks after a deep cleansing mask like a clay mask or the aspirin mask to moisturize my face! I also use it on its own sometimes as a treat! :D
Tip: Do store your masks in the fridge before using for an ultra-relaxing treat! :D
My $0.02:
After hearing many raves for this mask, i've decided to try it out for myself since it is not too expensive! I've high expectations for this since it has such lofty claims - to instantly brighten the skin, reduce brown spots, the blah. While i have to say that it does brighten my skin a little, i did not notice any instant whitening or reduction of my brown spots (as expected, lol!! I'd be really afraid if a whitening product does work so scarily quick!! *thinks Michael Jackson... shivers*)... Garnier shouldn't really make such claims when it doesn't really work that way! lol!! Also, this mask is slightly less moisturizing than the usual sheet masks, so i wouldn't really recommend this if you're looking for a particularly moisturizing one! :) It does, however, absorbs into the skin quickly after you massage it in, so it's really cool! :D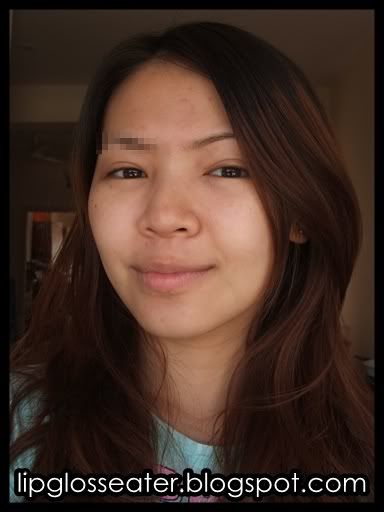 My face is glowy / brightened, but i don't see no obvious whitening effects...
ps: I'm STILL growing out my eyebrows... yes i broke my NYR yet again...
So, if you ask me if would repurchase, i guess i would. I'm ok with this mask, but i'm sure that there are many better masks out there!! :)
Credits: Product photo from Dressing-table.info