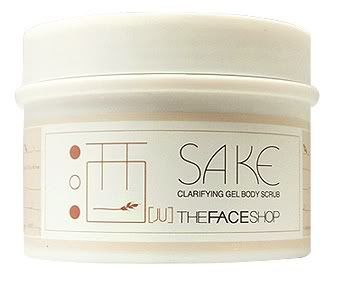 At a Glance:
Price:
RM39.90 (approx. US$10.80)
Website:
Thefaceshopen.com
Weight:
150ml
Made in:
Korea
Likes:
Exfoliates well
Gripes:
A little drying if overapplied, not very practical tub
Repurchase:
Maybe
Jenn's Rating:
3.5 Stars!! Ok Product!
Ingredients:
Water, Mineral Oil, Cyclomethicone, Glycerin, Octyldodecyl Mysristate, Trehalose, Butylene Glycol, Macadamia Ternifolia Seed Oil, Cetearyl Alcohol, Sodium Acrylate / Acrylolyldimethyl Taurate Copolymer (And) Isohexadecane (And) Polysorbate 80, Glyceryl Stearate, Rice Ferment Filtrate (Sake), Stearic Acid, Beeswax Glyceryl Stearate (And) PEG-100 Stearate, Polysorbate 60, Dimethicone, Microcrystalline Wax, Sodium Polyacrylate, Sorbitan Stearate, Methylparaben, Oryza Sativa (Rice) Bran Extract, Perfume, Phenoxyethanol, Propylparaben, Water (And) Glycerin (And) Sodium Lactate (And) Sodium PCA (And) Sucrose (And) Urea (And) Sodium Citrate (And) Tartaric Acid (And) Malic Acid, BHT, Caramel, Disodium EDTA, Prunus Armeniaca (Apricot) Seed Powder, Water (And) Glycine Soja (Soybean) Seed Extract (And) Coix Lacryma - Jobi (Job's Tears) Seed Extract (And) Sesamum Indicum (Sesame) Seed Extract (And) Oryza Sativa (Rice) Bran Extract (And) Vigna Radiata Extract (And) Helianthus Annuus (Sunflower) Seed Extract, Yellow 6 (15985).
Product Description
:
Sake relieaves the tention from both body and soul with its smooth, sensational scent while purifying and hydrating skin. Additions of various grain extracts along with Apricot Seed and Rice Husk powders to this gel body scrub exfoliate rough skin for a smoother, clearer complexion.

What is Sake? A spirit derived from the fermentation of rice, this grain wine is gaining popularity in Japan for such skincare benefits as promoting metabolism and purging skin debris for a clearer complexion.
Actual Product Pic: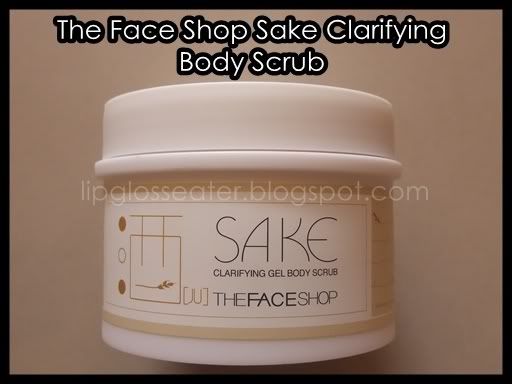 Top view (lol!):
Texture & Scent: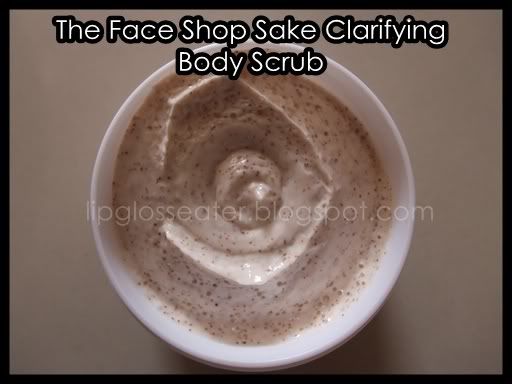 This scrub is definitely not as scrubby as your usual scrubs! This is a chemical scrub instead of a physical one (it does contain AHA, so girls who're sensitive to it do take note!!)! The scrub itself is rather gooey and slightly "runnier" than the usual scrubs. The scent is VERY strong!! I won't say that it smells like the real sake, but it does smell like a slightly floraly spirit! :)
Packaging:
This scrub comes in your usual tub with a screw lid. I personally think that all scrubs should come in a squeeze tube or a bottle with a pump or something! Using a tub of scrub in the shower is not really practical!!
Price & Availability:
This scrub is priced at RM39.90 (approx. US$10.80), and is available at all The Face Shop outlets! :)
My $0.02:
This is part of a wedding gift i received from a few lovely friends! :D The first thing that struck me was how overpowering the scent of this was!! Phew!! The second thing was that it wasn't very scrubby (i personally prefer my scrubs very grainy), so i used quite abit of it the first time... and found that it left my skin feeling really dry and tight!! Only then did i realise that this is actually a chemical exfoliator! That'll teach me not to read labels prior to using a product!! lol!!
Overall i think this scrub does a decent job of exfoliating the skin! The scaly skin on my legs were completely gone after 2 uses (and of course, with daily moisturization as well), which is really great!! My only gripe about this is that it comes in a tub (well, don't most scrubs do??) - not very practical to use in a shower!! On whether i would repurchase, actually i think i might! I just have a preference for very grainy scrubs, and with so many of them in the market, i think it'll be awhile before i come back to this! :D
Credits: Product photo from Thefaceshopen.com