Emerging from every corner of the glamorous globe, a new Style Warrior. Made to celebrate the cross-cultural sophistication of the modern Amazon Princess, African Queen, Crouching Tigress… Never before have we seen the "Wild Things" of the world come together in quite so many bold new combinations. Introducing a dramatically different and deliberately diverse colour story, an eclectic and expressive way to exalt and admire the strength and solidarity of beauty with no barriers. A selection of all-over summer bronzing shades for Lips, Cheeks, Eyes, Nails, featuring the innovation of Impassioned, Bronzescape and Scatterrays Solar Bits – sunbursts to unleash the animal in every woman. All exotically packaged in stylized zebra and leopard prints to keep it wild and free – the way it always ought to be.
Lipstick ($14.00)
Sunsational Sheer frosted beige gold
Brave New Bronze Creamy mid-tone pink nude
Purple Rite Mid-tone frosty orchid
Tribalist Creamy blackened berry
Lipglass ($14.00)
Liberated Sheer yellow gold with pearl
Gold Rebel Sheer copper bronze with pearl
Fierce & Fabulous Bright magenta purple with pearl
Style Warrior Blackened bronze brown with pearl
Eyeshadow ($14.50)
Soft Force Frosty pale white gold
Bright Future Frosty bright yellow gold
Tempting Sinfully rich coco
Vibrant Grape Bright magenta purple
Night Maneuvers Deep charcoal brown with pearl
Eye Kohl ($14.50)
Pro Lash Mascara ($12.00)
Coal Black Honest-to-goodness black
Beauty Powder Blush ($18.00)
Eversun Neutral peach bronze with gold pearl
On A Mission Pearly mid-tone plum
Solar Bits ($19.50)
Scatterrays Soft metallic peach with gold pearl
Bronzescape Clean yellow brown with gold pearl
Impassioned Frosty cool taupe
Nail Lacquer ($11.00)
Peaceable Pearly pale golden beige
Violet Fire Bright creamy magenta purple
Mercenary Frosted blackened bronze
Brush ($23.00)
242 Firm fibre Brush with rounded edge for smooth, even application of powder, emollient and concealer products
Every woman has an inner Wild Thing, and we've captured it with Style Warrior, a bronzing collection that paints a bold new portrait of the ultimate international ingénue. Exotics defy definition, combine and cross-multiply cultures, open up the borders of beauty. Like the beautiful boys and girls on a beach in Brazil, we celebrate every combination imaginable: Solar Riche or Refined Golden Bronzing Powder, Deep Dark Skinsheen, Golden Bronze Iridescent Powder/Loose, 182 Buffer Brush to apply, and now, new Lustre Drops for instant glow…leopard gold and ebony brown, violet purples and rich earth come together to make a New People, a new standard for what's sexy NOW. New beauty comes in kaleidoscopic colours… Diverse, Divine, Dramatic is how we do it!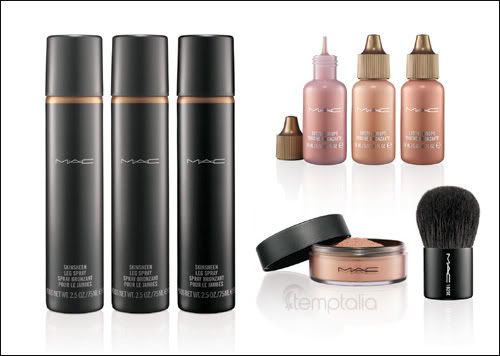 Bronzing Powder ($21.00)
Solar Riche Mid-tone deep orange brown
Refined Golden Finely spun golden with soft pearl finish
Lustre Drops ($18.50)
Pink Rebel Blue pink with gold pearl
Sun Rush Peachy bronze with gold pearl
Bronze Hero Hot bronze with fine gold pearl
Skinsheen ($22.50)
Medium Dark Sheer soft bronze with golden tan pearl
Dark Golden bronze
Deep Dark Deep warm bronze with rich golden pearl
Iridescent Powder/Loose ($21.00)
Golden Bronze Golden brown with golden bronze shimmer
Brush ($45.00)
182 Buffer A full, dome-shaped brush of extra soft goat hair. Specially created to flawless ly blend powder onto the skin for an immaculate polished finish. Excellent for all M·A·C powders and pigments.
This two-part collection seems like an "anniversary" for last year's Neo Sci-fi (special packaging) and Solar Field (solar bits & bronzing powders)! Well if you ask me, i'll have to say that the packaging this time round is HIDEOUS! =X Either go Celtic all the way, or animal print all the way. Two different motives sqooshed together does not make one appealing theme!! *slaps forehead*
For those who missed out on the Eversun beauty powder blush last year, do remember to check it out! This is one of my personal favourites! I use it most of the time as a contouring powder, but as a blush, it works beautifully to give you a wonderful sunkissed look too!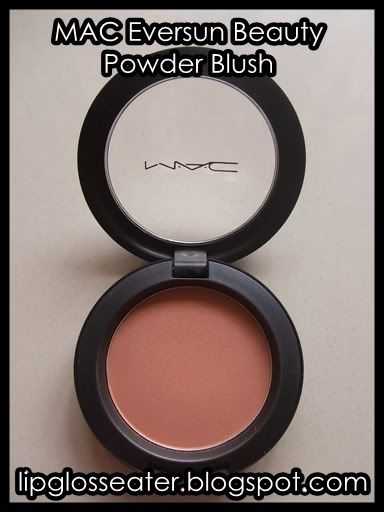 Here's a picture of me wearing this blush on my right cheek (your left):
Woohoo... it's great to have them brows back! hahaha!! :P
I'll most likely be getting the On a Mission beauty powder blush, the Liberated lipglass, and maybe the Sunsational lippie. I know some of you girls are looking for a bronzer, so do check them out too!! :) This collection will be available in the US on the 28th of May!
Does this collection appeal to you, or will you be skipping most of it? :D
Credit: Photos and Color Stories from
Temptalia.com