I was woken up today by really noisy neighbours! They were squealing and laughing with joy (much to my annoyance actually... i still want to sleep! lol!). I was complaining to my husband via MSN, and he reminded me that today is a
Holi Day
! (Ok, bad pun, lol!)
Holi, also known as
Dhulheti
,
Dhulandi
or
Dhulendi
, is celebrated by people throwing coloured powder and coloured water at each other.
Ohhhhhh!!
So THAT's what today is!! I've seen this festival on TV, but never saw it in person!! I manage to capture a few pictures of people covered with colored powder having fun! :D
Nyaha, i gotcha!! :D
Somebody don't look too pleased... hahaha!!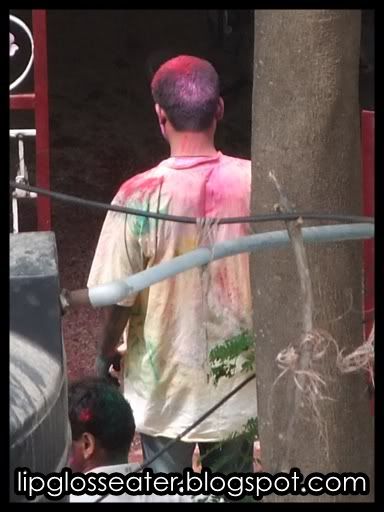 Looks fun ya!! Reminds me of my high school days where we would pour water + glitter powder over our friends on the last day of school! lol!! It was fun but needless to say we had a field day trying to wash all those glitter off our hair!! XD
For all our Indian friends who celebrate this day, i wish you a happy Festival of Colors! Have a great fun day today yeah! :D