Cath's
raves about the Revlon products got me wondering about their products, so i went and check them out at Watsons! :D
So sorry Cath, I couldn't swatch the 12 hour eyeshadow quads for you because the testers didn't have names and some of the testers' quads were OOS so i don't know which is which! :( I did, manage to check the Mineral line out though so i thought i'd post them just in case anybody needs them! :D
Only the Eyeshadow and the Lipglaze were available at the Watsons i went to! Let's start with the Eyeshadows first!
The shadows were rather pigmented, and they go on really smoothly!! I however, have two gripes about them:
1.
Packaging:
Most of the shadows were clumsily glued unto the pan!! As some of you alredy know, baked eyeshadows are especially fragile, so it makes good sense to invest in better packaging for them!! Some of the brand new shadows have already dropped out from the pan and is knocking against the casing everytime somebody picks it up!! The testers were "swirling around" when i was swatching them! lol!!
2.
The Colors:
Don't get me wrong - they're pigmented, but the colors offered were really "sheer" - too "skintone like" if you get what i mean! Also, for the last two trios below, the first color is really similar to the 2nd color!! Can we say REDUNDANT or what! lol!
The swatches on top were taken without flash, the the ones below with! :D
These shadows are RM49 each! :)
Next, let's look at the lipglazes!
There were only 2 colors left on the shelf!! I find them very pigmented for a lipgloss, and boy, do they last!! I tried washing them with soap but that won't take them off completely!! Sounds great! :D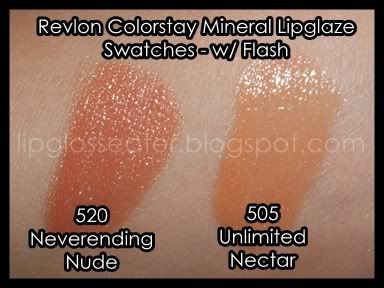 These lipglazes are RM39 each! :)
Overall i think that the quality of these two items are above average, though personally i would not purchase the eyeshadows due to the reasons stated above. I'm rather bummed that the blushes were not available yet!! I would love to see them in person!! :D
BTW, the swatches on the website are SERIOUSLY misleading so do NOT rely on them to buy your stuff! lol!!
Were you impressed by this collection? Didcha get anything or do you think otherwise? :D
-.-
On a different note, i finally gotten around to address my stretch marks problem!! The more i look at them, the more they bother me!! >.<
Introducing my latest buy: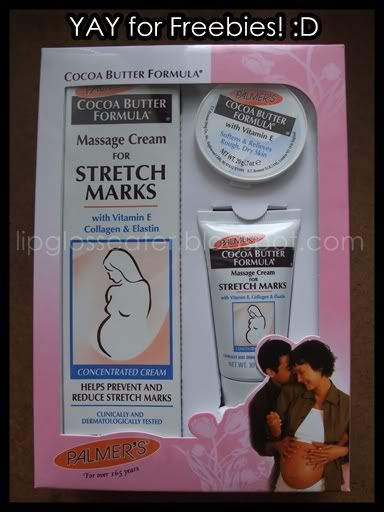 The Palmer's Cocoa Butter Massage Cream for Stretch Marks + 1 mini massage cream & cocoa butter cream each for free!! :)
and before you ask,
NO i'm NOT pregnant
though i may look the part
so don't even ask unless you want me to thump you with my handbag!!! lol!! XD
Photo credits: Product pics taken from
Revlon.com