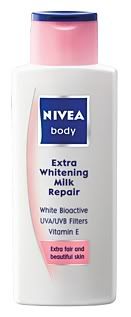 At a Glance:Price:
RM6.70 (approx. US$1.80)
Website:
Nivea.com.my
Weight:
75ml
Made in:
Thailand
Likes:
Moisturizes rather well, cheap, easily available
Gripes:
None
Repurchase:
Yes, but like all itchy backsides i love trying out new lotions so it'll be awhile before i repurchase! :)
Jenn's Rating:
4 Stars!! Me Likey!!
Ingredients:
Aqua, Stearic Acid, Dimethicone, Ethylhexyl Methoxycinnamate, Isopropyl Palmitate, Paraffinum Liquidum, Cetyl Alcohol, Cteyl Palmitate, Octadecenedioic Acid, Tocopheryl Acetate, Glycerin, Butyl Methoxydibenzoylmethane, Sodium Carbomer, Glyceryl Stearate, Magnesium Aluminium Silicate, Silica, Trisodium EDTA, Phenoxyethanol, Methylparaben, Propylparaben, BHT, Linalool, Limonene, Citronellol, Alpha-Isomethyl Ionone, Hydroxyisohexyl 3-Cyclohexene Carboxaldehyde, Benzyl Salicylate, Coumarin, Parfum
Product Description
:
NIVEA Body Extra Whitening Milk Repair is a daily moisturiser that ensures naturally fairer skin with a more even tone. The extra whitening formula is specially developed to whiten skin and prevent dullness caused by sun exposure. Suitable for all skin type, it is also quickly absorbed, without leaving a sticky feel.
Product Action:
The formula is enriched with natural White Bioactive, Vitamin E, UVA and UVB filters to effectively whiten and repair skin, leaving it smoother and naturally fairer. NIVEA Body Extra Whitening Milk Repair also helps reduce discolouration and blemishes while protecting skin from darkening caused by UVA / UVB rays.
Result:
Beautiful fair skin is achieved with daily usage.
Dermatologically proven for skin compatibility.
Actual Product Pic: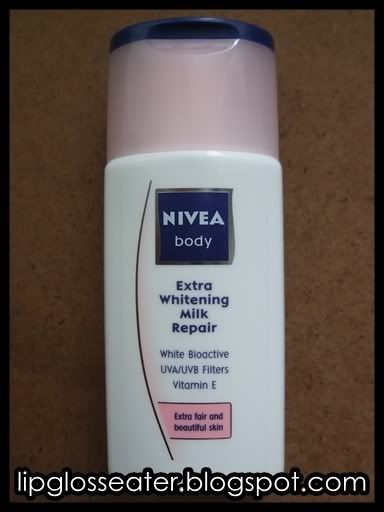 Texture & Scent: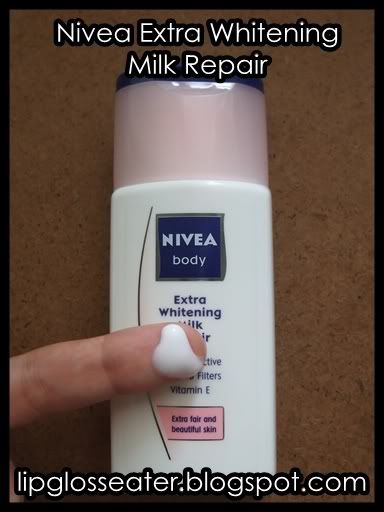 This lotion is a little runny, so it speads very well on your skin! :) The scent smells similar to the other Nivea body lotions - a clean, powdery soft scent which i like! :D
Packaging: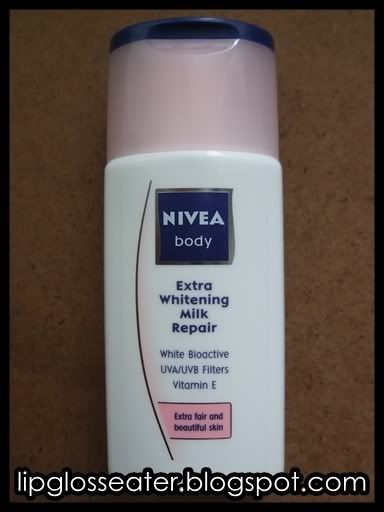 I bought the smaller bottle, so this one comes in a 75ml squeeze bottle with a flip top closure! There's another bigger one which contains 400ml and it comes with a pump.
Time Test:
This lotion took about 10 minutes or so to sink in, and my skin feels moisturized for about half a day before i have reapply.
Price & Availability:
This lotion is priced at RM6.70 which i think is pretty affordable! The 400ml pump version is priced at RM23.60. This lotion should be available at most Guardian / Watsons outlets and your local supermarket! :)
Usage:
I apply this liberally unto my limbs and body at night before i go to bed! :)
My $0.02:
I've gone through several bottles of the good ol' Whitening Milk Repair during my college days and i loved it, so i thought that i'll give this "extra whitening" version a try! :D
I cannot comment on the whitening power of this lotion because i went tanning in Langkawi so that really "defeated" whatever whitening this has done for my skin, lol! But in terms of moisturization power it is pretty decent for a drugstore product!! This product got rid of my scaly legs within a week of daily application!! :D I like the scent too as it reminds me of my college days!! :D
All in all i would recommend this to those who wants fairer skin for their bodies or simply looking for an affordable body lotion!! :D
Credits: Product photo from Nivea.com.my