I was looking out for the new Maybelline Clear Smooth Minerals loose powder after reading it on
Plue's
site! I went to Guardian first - the stocks were in, but no testers were available! Fine, i went to Watsons next - even worse - the displayer was up, but the stocks were not in yet!! A little pissed off, i went to Sasa next, same case as Guardian, the stocks were in but no testers. One last stop, the little Maybelline corner in Jusco - same case as Watsons - displayer is up but no stocks yet!! *wails* i guess it's just my luck to not be able to check this out before i go back to India!! :'( :'(
My only consolation was to be able to swatch the new Angelfit blush for you girls!! I hope some of you will find this useful! :D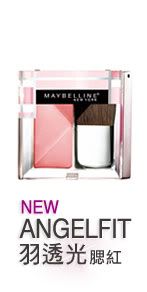 Never Streaky, Always Luminous.
The Perfect Blush for a Perfect Flush!
Bring out your natural beauty. Radiant Pearls and pure color pigments diffuse light to highlight your complexion for luminous color that blends perfectly with your skintone, just like an angel.
There are 4 colors to choose from, and out of those 4, the first two listed below are rather matte and the last 2 are a little shimmery. All 4 colors are quite pigmented so methinks one swipe should be enough for the color to show on your cheeks! These go for RM29.90 (approx. US$8) each and should be available at most Watsons and Guardian outlets :)
As usual, the swatches on top are taken without flash, and the ones below, with! :)
From left: 05 Peachy Sweetie, 02 Strawberry, 07 Velvel Apricot, 06 Creamy Cinnamon
Some of you asked me about the Flawless Affinity foundation from the same line some time back.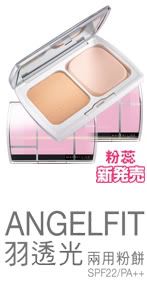 I tried it on the back of my hand on that same day, and i'm really surprised at how fine the powder is! It blends into my skin without looking unnatural, plus it doesn't sit into the fine lines on my hand!! The SPF is definitely a plus too!! This powder comes in 6 shades, and is sold for RM39.90 each. They sell refills for this product too!
HTHs! :)
Photo credits: Product pictures from Maybelline.com.tw