HELLO KITTY MILD
Hello Kitty Mild, meet Hello Kitty Wild! Sweet and innocent or out on the prowl: when she's good, she's very good, but when she's bad, she's unmistakably M·A·C!
HELLO KITTY WILD
The icon adored by millions around the world is causing a commotion with our special, limited-edition collection of colour, finishes, glitter and shine, and a fanciful range of exclusive, It-Kitty accessories: the season's most sought-after collectibles!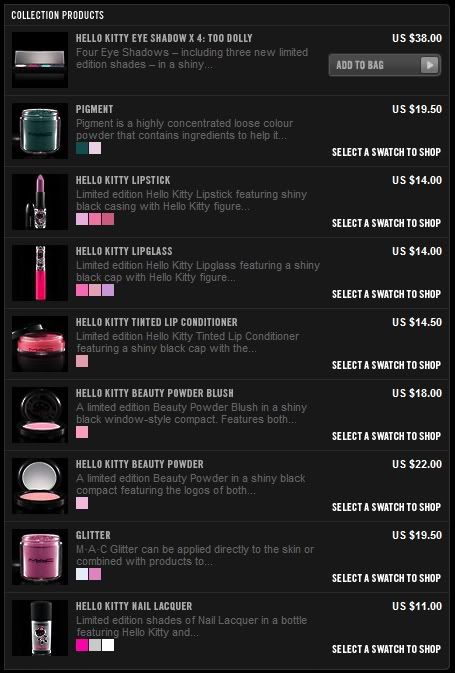 HELLO KITTY ACCESSORIES
Covet über-cute beaded charm bracelets, devilishly adorable graphic totes, makeup bags, charmed and mirrored key clips...and Hello! Her absolute Must-Have: the fabulous 8" plush Hello Kitty doll!
After seeing swatches of the collection, i'm glad to announce that most of the stuff didn't really scream "BRING ME HOME" to me!! I'll probably be only bringing one lippie and lipglass, and the blushes! Will have to check out the beauty powders in person before i can decide whether i would wanna buy them or not! I heard that they're really sheer! :)
What did you buy / would like to buy from this collection? :D
ps: i'll still have to say that i HATE the MAC site!! Gosh it's taking ages to load!! >.<
Photo Credits: All pictures taken from Maccosmetics.com