Eons after being released in the US, these two collections are now available for us poor penang souls! The MAC store had the displayer up two weeks ago, but their stocks were not in yet. I popped by the store again yesterday, and this time the stocks are available already! :D
I apologize in advance for the crappy swatches! The lighting in the mall made my camera went bongkers, plus i had to hurry because people are giving the strange look already!! lol!!
Let's start with the Dame Edna Collection!
Lippies:
The lippies are definitely the star of this collection!! They're so pigmented and creamy, so if you like bold lippies you MUST check them out!! :D
Lipglasses:
The lipglasses are just alright for me (but this is strictly my personal opinion since i do not like these colors), but i have to say that Possum Nose Pink sounds really cute!! lol!! All 3 lipglass are rather pigmented and shimmery! :)
High-light Powders: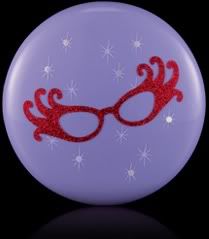 As most of you know, the shimmer for the Highlight Powders are just an overspray, so basically the powder will be matte once all the shimmer has been rubbed off. The matte powders reminded me of the Benefit Dandelion and Georgia Box o Powders, which i think these would be a more pigmented substitute for! :D
Eye Trios: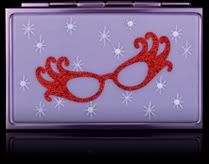 I personally find most shadows from these two palettes rather chalky and lacking in pigmentation!! Most colors can be easily duplicated as well, so unless you're buying for collection's sake, SKIP THEM! lol! btw, did anybody realise that the order of the shadows were wrong on the MAC website? :P
Just a little note cum rant, the glittery spectacle on the lippies, lipglasses and powders are stickers, which baffles me to no end on why MAC would do that. Majority of the specs on the displayer are falling off already!! MAC, do you hear us?? NO MORE STICKERS ALREADY!! *slaps forehead*
OK, with one collection done, let's go onto the Chill collection.
Eyeshadows:
If i could use only one word to sum up these shadows, it would be:
BLAH!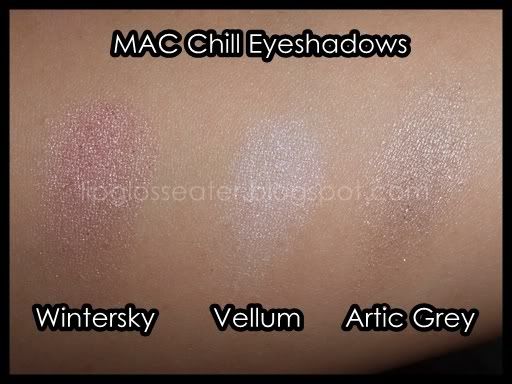 With the exception of Wintersky, the rest of the eyeshadows are rather chalky (Apres-ski and Mont Black were EXCEPTIONALLY hard to swatch with my finger... i can only imagine how hard is it to apply on with a brush!!!!).
Lipglasses and the new Penultimate Liner:
I'll have to say though, that the lipglasses were really pretty though they're sheer! Methinks that they would layer beautifully over lippies! :D As for the Penultimate liner, it's really easy to use, and i love how black it is!! I'm glad that this is permenant! yeah!
So what did i get from this collection? I got...
... nada! :P The loooong wait made me lose all interest in all these items already!! Though i'll have to say that i'm stilllll thinking if i should bring home with me the hilight powders and a couple of glosses (and mayyyybe one lippie)! Or maybe not... so before i can make up my confused little fickle mind, i better stay far far away from the MAC store! Recession now, you know??? lol! :D
Didcha get anything from this collection? :D