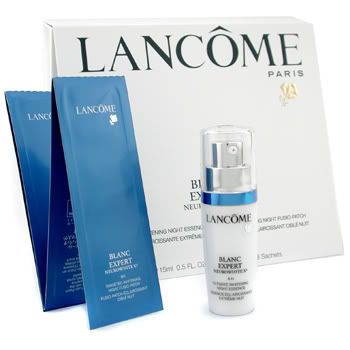 At a Glance:Price:
RM330 (approx. US$92), US$107.50 on
Strawberrynet.com
Website:
Lancome.com.sg
Weight:
Essence: 15ml, Patch: 60mg x 40
Made in:
France
Likes:
It does work, albeit at a very slow pace!!
Gripes:
The patch is very flimsy!!
Repurchase:
Maybe
Jenn's Rating:
4 Stars! It does work!
Ingredients:Essence:
Aqua / Water, Butylene Glycol, Glycerin, Cyclopentasiloxane, Isononyl Isononanoate, C13-14 Isoparaffin, Tocopheryl Acetate, Tocopherol, Sodium Hyaluronate, Hydroxyisohexyl 3-Cyclohexene Carboxaldahyde, Stearic Acid, PEG-100 Stearate, PPG-5-Ceteth-20, Fagus Sylvatica Extract / Fagus Sylvatica Bud Extract, Ethylparaben, Triethanolamine, Ellagic Acid, Polyacrylamide, Salicylic Acid, Xanthan Gum, Benzyl Silicylate, Ginkgo Biloba Extract / Ginkgo Biloba Leaf Extract, Linalool, Mentha Piperita Extract / Peppermint Leaf Extract, Alpha-Isomethyl Ionone, Rosa Centifolia Extract / Rosa Centifolia Flower Extract, Cetyl Alcohol, Methylparaben, Tetrasodium EDTA, Buthylpenyl Methylpropional, Laureth-7, Glyceryl Stearate, Glycyrrhiza Glabra Extract / Licorice Root Extract, Parfum / Fragrance, (F.I.L. B27122/1)
Patch:
Hydroxypropyl Methylcellulose, Glycerin, Panthenol, Polyvinyl Alcohol, Hydroxypropylcellulose, Capryloyl Salicylic Acid, CO42090 / Blue 1, (F.I.L B27882/1)
Product Description
To "dissolve" brown spots during the night! Awake to reborn pure translucent white skin
At night, skin cellular turnover is at its peak, it is the ideal moment to tackle brown spots.
Lancome Laboratories create their first intensive targeted 8H night treatment to counteract* the excessive melanin and tackle both internal and external causes of brown spots.
Night Essence is formulated with maturally-derived Ellagic acid and Neurowhite system for reinforced action against stress-induced melanin production and it's oxidation.
Cutting-edge Fusio-Patch contains the most precise gentle exfoliating agent, which can individually remove dead cells charged with melanin.

Results: After the first application: skin looks more even.
After 4 weeks: brown spots look visibly reduced, skin recovers translucency.

*in vitro tests.
Actual Product Pic:
The box they came in: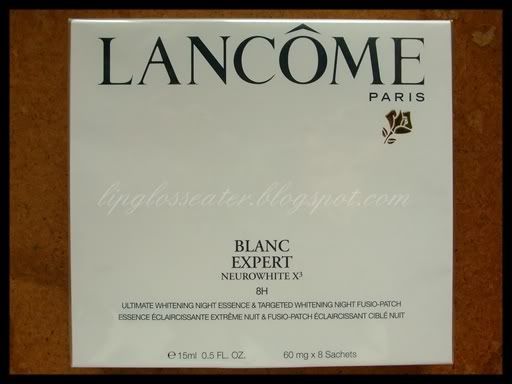 Open sesame:
Texture & Scent:
The essence is rather runny, so it spread easily unto your freckles! The scent is similar to the other moisturizers in this range - a light perfumey scent that is rather pleasant. The patch is VERY flimsy though... so handle it with care!!
Packaging:
This treatment comes in a cardbox! You get a 15ml essence and 8 sachets of the patch, each sachet containing 5 patches!
The essence comes with a pump dispenser, which is great! :D
The patches: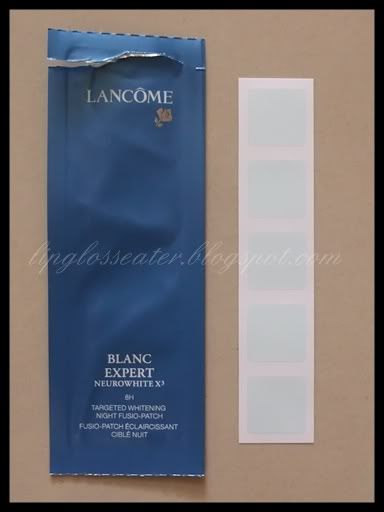 Time Test:
It took me about 5 minutes to use this mask, sometimes even more!! I usually use this before i sleep though, and the patch did stay on for more than 8 hours! :)
Price & Availability:
This treatment is priced at RM330 (approx. US$92), so it's on the expensive side! It's available at most Lancome counters in Asia, and on Strawberrynet.com! :)
Usage:
I use this treatment 2x a week as per instruction. Here's a simple tutorial on how to put it on:

Prior to using this treatment:
Apply your toner, moisturizer, serum, etc. Also, you MUST apply a whitening night cream for this to work. At first i didn't believe the SA when she told me that (cuz i thought she was just hardselling the night cream to me!!), but for 4 weeks i didn't see any result, simply because i didn't use the night cream! It was only after I used the night cream that i can see the difference!! :P Ok, after the night cream has been absorbed into your skin,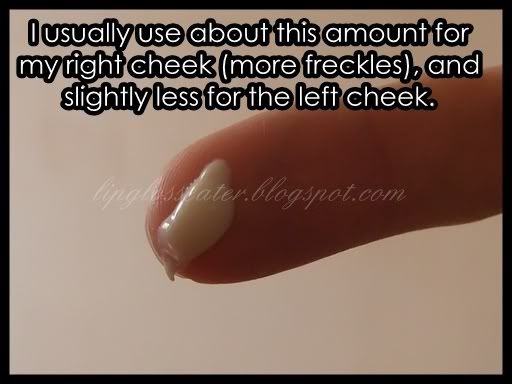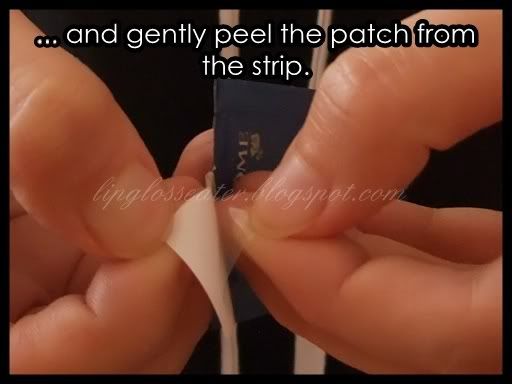 GENTLY
is the keyword here!! The patch is VERY thin and flimsy, so be careful not to let it curl up! You're gonna have a field day trying to "spread" them out again once they're "folded" together!! *tears hair out*
Tip:
If the area you're treating is smaller than the patch, you can cut the patch up into smaller pieces like i do! :)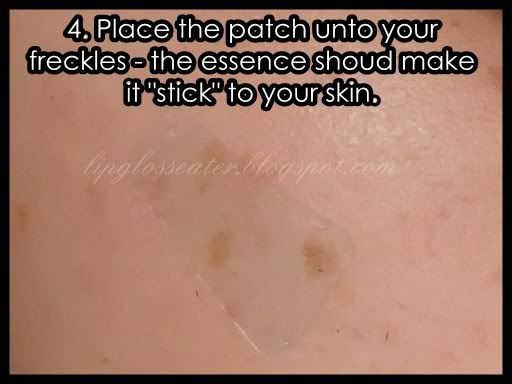 Repeat on other areas that you wish to treat.
Wait, you're not done yet!
Again, GENTLY is the keyword here!! You don't want to make the patch ball up!! (Contrary to what the leaflet says, the patch does not melt completely!! So don't waste your time!!). After this, you may go to bed! lol!! Just remove the patch the next morning and wash your face as usual! :)
My $0.02:
Up till this morning before i took the "after" pics, i was pretty disappointed with this treatment because it did not appear to do anything for my freckles. It was after i saw the before / after comparison pics that i realised that it DID made a difference! It worked sooo slow and gradually that i did not notice the change! :)
Ok, talk is cheap, i'll let the pictures do the convincing:
Right Cheek:
Left Cheek:

As you can see, most spots have been lightened! :) But because the effects are so gradual, I failed to notice it! I have 5 patches left to go before i finish this treatment. After this, I MAY repurchase! The price is making me think twice though (It's RM8.25 per treatment, so its not so bad if you think of it that way! But STILL, you'll have to fork out that money up front! lol!). But if i DO get a second box, i'll definitely update the outcome at the end of it!! :)
View reviews for other products in the Neurowhite X3 range:
Lancome Blanc Expert Neurowhite X3 Ultimate Whitening Purifying Foam
Lancome Blanc Expert Neurowhite X3 Ultimate Whitening Beauty Lotion - Moist
Lancome Blanc Expert Neurowhite X3 Ultimate Whitening Hydrating Emulsion - Moist
Lancome Blanc Expert Neurowhite X3 High Potency Whitening Spot Eraser
Credits: Product photo from Strawberrynet.com