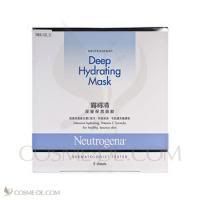 At a Glance:Price:
RM36 (approx. US$10)
UPDATED 8/7/09: it's now RM49.90 (approx. US$13.48)!!! *curses under breath*
Website:
NA
Weight:
5 sheets
Made in:
China, Developed in Japan
Likes:
Very moisturizing, makes my skin glowy!, easily available!
Gripes:
None!
Repurchase:
Yes
Jenn's Rating:
5 Stars! My HG hydrating mask!!
Ingredients:
Water, Butylene Glycol, Ascorbyl Glocoside, Mulberry (Morus Alba) Root Extract, Aloe Barbadensis Extract, Dipotassium Glycyrrhizate, Cyclomethicone, PEG-60 Hydrogenated Castor Oil, Trioctanoin, Propylene Glycol, BHT, Sodium Myristoyl Glutamate, Xanthan Gum, Sodium Citrate, Citric Acid, Methylparaben, Ethylparaben, Sodium Hydroxide.
Product Description
Neutrogena Deep Hydrating Mask is an intensive facial treatment mask that replenishes and restores moisture for deeply hydrated and bouncy skin. Shaped to fit the face, each mask instantly boosts skin's moisture level 12 times with a penetrating Vitamin C formula, leaving skin soft and dewy with a healthy glow.

Provides instant and long-lasting moisturization
Deeply hydrates skin cells to leave skin bouncy
Improves skin texture to leave it soft and smooth with a healthy glow
Dermatologist tested formula is:
Non-comedogenic
Alcohol-free

Fragrance-free



Actual Product Pic: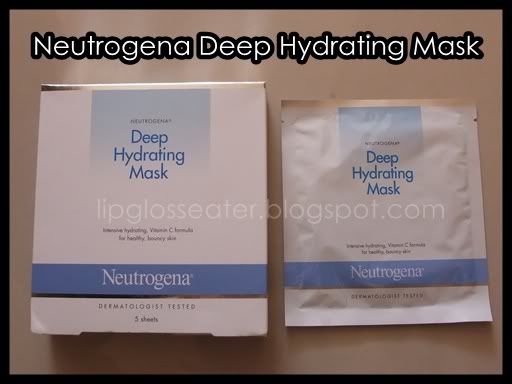 Texture & Scent:
This is your typical sheet mask! It is slightly thinner than the
ZA True White Essence Mask
. This being fragrance free has a weird chemical smell, but it's quite light so i'm alright with it.
Packaging:
This mask comes in a cardbox box of 5! Each mask is individually packed in their respective foil packs!
Time Test:
15 minutes is all you need for beautifully moist skin! :D
Price & Availability:
At RM36 (approx. US$10) per box, it is not exactly cheap, but it's definitely affordable! This mask is available at most Watsons / Guardian and some supermarkets!
Usage:
I use this mask 1-2x weekly, especially after using the
Aspirin Mask
.
My $0.02:
This has officially replaced the
ZA True White Essence Mask
as my favourite sheet mask!! It's more moisturizing, is alcohol free, and cheaper too!! The only complaint i have about this mask is that it doesn't fit my small face as well as the ZA one:
Still, it's a really great drugstore mask that i'd recommend everyone! :D
Credits: Product photo from
Cozycot.com