At a Glance:Price:
RM22.90 (approx. US$6.36)
UPDATE 8/7/09: it's now RM23.90 (approx. US$6.45)
Website:
Lorealparis.com.tw
Weight:
125ml
Made in:
Indonesia
Ingredients:
Water, Cyclopentasiloxane, Isohexadecane, Isopropyl Palmitate, Sodium Chloride, Dipotassium Phosphate, Poloxamer 184, Potassium Phosphate, Panthenol, Polyaminopropyl Biguanide, D & C Green N° 6 (CI61565).
Product Description:
GENTLE lip and eye make-up remover is a unique formula which instantly removes the most tenacious eye and lip make-up, even waterproof. So gentle it is suitable for sensitive eyes.

Texture & Scent:
This makeup remover has two layers - an oily layer on the top (presumably for removing waterproof makeup) and the actual remover beneath. Both layers are quite watery, so it is easy to dispense it unto a cotton pad. There is a very faint perfumy scent that is hardly noticable.
Packaging:
This makeup remover comes in a plastic bottle with a twist off cap.
The dispensing hole is rather large so you can dispense both layers at the same time easily! :)
Time Test:
It takes just a couple of minutes to fully remove all the makeup from my face, including waterproof mascara!!
Price & Availability:
This product is priced at RM22.90 (approx. US$6.36), which is rather affordable! It goes on sale quite often too! :) It's available at most Watsons / Guardian / Loreal counters.
Usage:
I use this daily to remove my makeup and sunblock!
Here's a simple guide on how to use this product! Let's start with my makeup plastered face:
Tip: You can use the reverse side of the cotton pad to remove your makeup too!! :)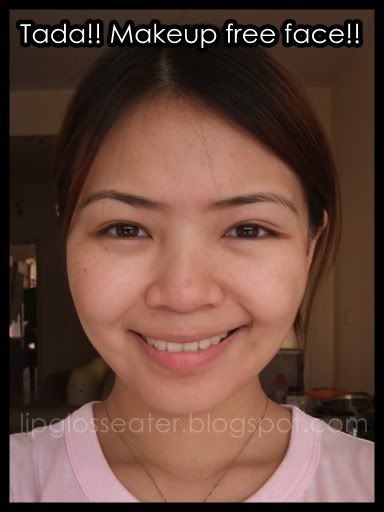 My $0.02:
This used to be my HG drugstore makeup remover - i went through countless bottles of this before i discovered the MAC Cleanse-off Oil (which i will review on another day)!! It's cheap and it removes absolutely everything (including the very very stubborn MAC Liquidlast liners and the Fasio waterproof mascaras!)!! I love how this isn't very oily too!! Two thumbs up for this great drugstore find! :D
In a Nutshell:

An awesome drugstore makeup remover that gives you the bang for your buck!!
Likes:
Removes EVERYTHING, cheap, easily available
Gripes:
The need to double cleanse after! :)
Repurchase:
Yes!
Rating:
4.5 Stars
! Near HG Stuff!! :D