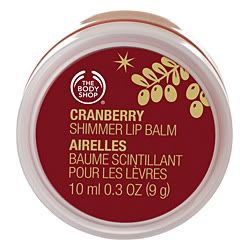 At a Glance:Price:
RM19.50 / US$8 (Price in RM should be higher now)
Website:
Thebodyshop-USA.com
Weight:
10ml / 0.3 Oz (9ml)
Made in:
USA
Likes:
Lovely festive scent, gives a beautiful rosy tint to your lips
Gripes:
Not exactly moisturizing, unhygenic pot, limited edition!
Repurchase:
No
Jenn's Rating:
2.5 Stars - Pass but "skippable" if you get what i mean!
Ingredients:
Ricinus Communis, Lanolin, Polygryceryl-3 Beeswax, Aroma, Cera Alba, Hydronated Castor Oil, Silica, Tocopheryl Acetate, Vaccinium Macrocarpon, Mica, Ammonium Glycyrrhizate, Tocopherol, Linalool, CI19140, CI77891, CI77499, CI15850
Product Description:
New!
Best if you want to: Get mistletoe-ready using a moisturizing, glossy lip balm that leaves your lips soft and shimmering with a festive and fruity cranberry scent.Best for: all skin typesHow it works:
Cranberry seed oil moisturizes skin.
Community Trade organic beeswax conditions skin and helps to lock in moisture.
Antioxidant vitamin E nourishes and protects the delicate skin on the lips.
Actual Product Pic: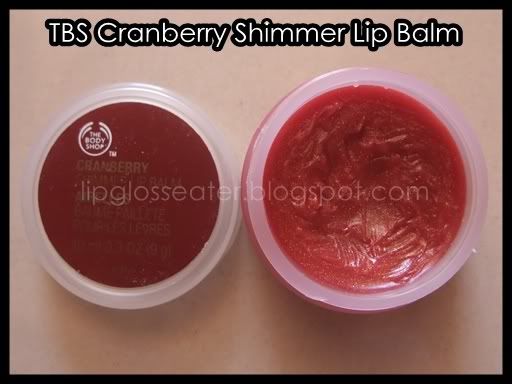 Texture & Taste:
This balm spreads on smoothly without feeling heavy on the lips. This smells really really nice and yummy (it reminds me a little of Bubbleyum! hehe!), which is the main reason why i bought this! Be warned though - this balm has the tendency to sink into the fine lines of your lips, so do exfoliate and apply a separate balm prior to applying this!
Pigmentation & Color (Plus Swatches! :D):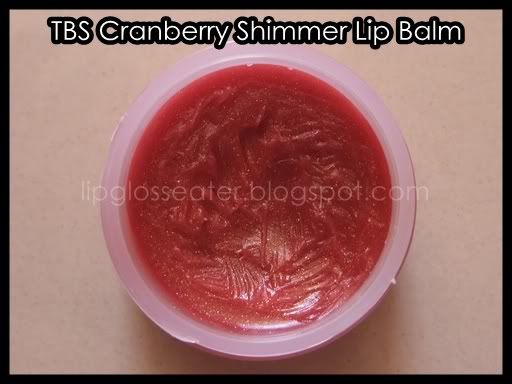 This lip balm looks scarily red in the pot, but it does give a lovely sheer rosy tint to the lips! There're gold shimmers in the pot, but they're almost invisible on the lips!
On my lips: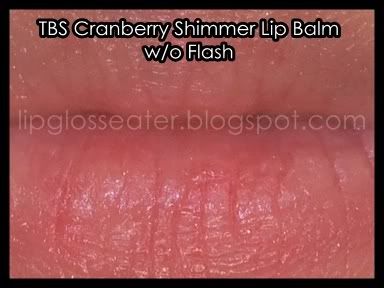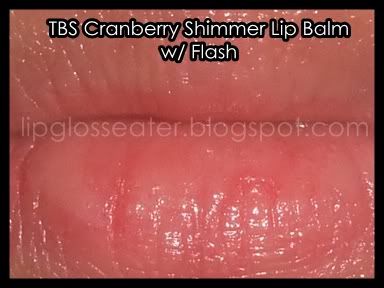 This balm is applied onto my bare lips - as you can see, it really settles into the fine lines of my lips, making them look rather dry! :(
Packaging: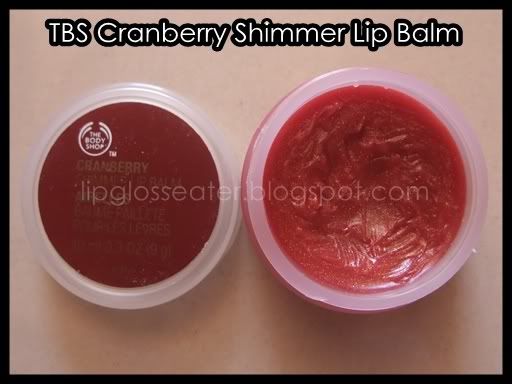 This lipbalm comes in a plastic pot that's slightly larger than a 50 sen coin with a screw off lid. I really dislike balms that come in a pot because it's such a pain having to carry a separate lipbrush around. Don't even mention about sticking your fingers into the pot... that's just so GROSS!!
Time Test:
This lipbalm barely lasted about 3 hours on my lips, which is slightly shorter that what i'd like!
Price & Availability:
This balm is priced at RM19.50 when i bought it in 2005. It should be selling for more than RM20 now (it's US$8 on the website now). It's available at all TBS brick and mortar stores as well as through the TBS website! It's LE though, so stock up if you like it! :)
Usage:
I use this more as a lip tint than a balm, since it doesn't moisturize!!
My $0.02:
This LE balm is one of the most DELICIOUS smelling ones i've ever used! It's a real pity that while it did not dry out my lips, its not very moisturizing either! I have to wear a separate lipbalm under this, which totally defeats its purpose as a balm! Also, i HATED the pot it came in because 1, it is rather bulky and 2, it's not very hygenic!! If they'd change the formula and repackage this into a tube, i'd surely repurchase. For now, i'm off to find my HG lipbalm!!
Credits: Product photo from Thebodyshop-usa.com.