At a Glance:Price:
RM17.90 / US$8
Website:
Thebodyshop-USA.com
Weight:
4.2g / 0.15 Oz
Made in:
USA
Likes:
Moisturizes and relieves chapped lips, very portable tube
Gripes:
The scent!
Repurchase:
Yes
Jenn's Rating:
4.5 Stars! Would be HG stuff if it wasn't for the scent!
Ingredients:
Hydrogenated Coconut Oil, Beeswax, Olea Europaea (Olive) Fruit Oil, Euphorbia Cerifera (Candelilla) Wax, Theobroma Cacao (Cocoa) Butter, Flavor, Prunus Amygdalus Dulcis (Sweet Almond) Oil, Tocopheryl Acetate, Propylene Glycol, Water, Chamomilla Recutita (Matricaria) Extract, Ammonium Glycyrrhizate, Calendula Officinalis Extract, Tocopherol.
Product Description:
A handy mini stick that offers extra-intensive melt-on moisture for the lips, thanks to its innovative concentrated format. Melts and glides over skin as you aply, leaving it feeling soft, smooth and supple.
Actual Product Pic: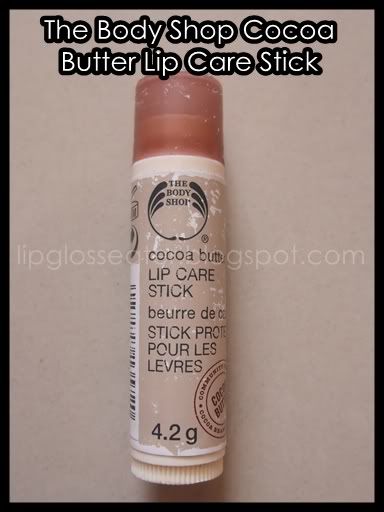 (Please excuse the tattered packaging! I kept this in my purse together with my keys! :P)
Texture & Taste:
As you can see from the pic above, this lip balm is really soft and gooey! It spreads on smoothly, but it sits on your lips for sometime before it sinks in! The cocoa butter scent is REALLY strong! It smells really yummy at the beginning, but after awhile i got really sick of the scent!!
Packaging: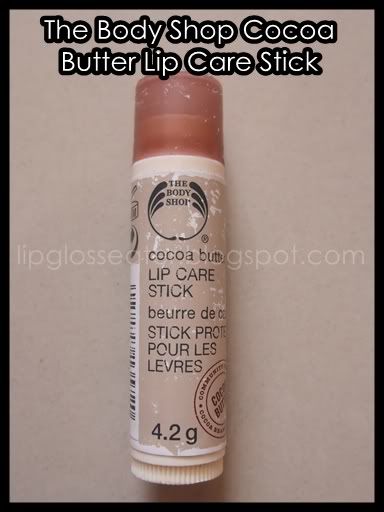 This lipbalm the usual twist up tube with a plastic cap. I much preferred this packaging over the pots!! I love how portable these are! :)
Time Test:
This lipbalm lasted the whole night on my lips, which is about 8 hours!
Price & Availability:
This balm is priced at 17.90 / US$8. This balm is available at all TBS brick and mortar stores, as well as on the TBS website!
Usage:
I wear this lipbalm to sleep almost every night. It keeps my lips soft and moisturized! I also apply this to the nasty chaps around my lips.
My $0.02:
This lipbalm is probably one of the best i've tried before! :D It's really moisturizing and it gets rid of the chaps and flakies in a jiffy! I love that this comes in a tube too!! The only thing i don't like about it is the strong scent!! It gets really sickly sweet sometimes! I hope they tone down the scent! Phew! That being said, i'll still repurchase this because i love how effective this is! :)
Credits: Product photo from Thebodyshop-usa.com.