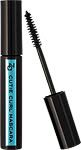 At a Glance:Price:
RM29.90 (Approx. US$8.30)
Website:
Za-Ny.com
Weight:
6g / 0.21 Oz.
Made in:
Japan, Assembled in Taiwan
Ingredients:
N/A
Product Description
A mascara that can create thick, dark lashes. The curling effect lasts for an extended period without the need for an eyelash curler.
Actual Product Pic:
The Applicator:
My $0.02:
This mascara is one of my personal favourites! It's smudge proof, doesn't clump much and really does maintain a curl for the entire day! I love how it doesn't dry out quickly too (i bet you can tell that i'm sooo not a toss-out-your-mascara-after-3-months person!! XD).
Ok, here're some pics for everyone:

... which i really don't recommend lah!! It looks terribly spidery!! :S
So you can see, this mascara really fattens up and lengthens my lashes naturally for the first two coats!!
In a Nutshell:

A wonderful drug store mascara that works beautifully!!
Likes:
Lengthens and volumizes well, smudgeproof, cheap
Gripes:
None so far!
Repurchase:
Yes! :)
Rating:
! 5 Stars! HG Stuff!!
Credits: Product photo from
Za-Ny.com