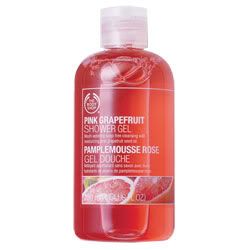 At a Glance:
Price:
RM24.90 / US$13
Website:
Thebodyshop-usa.com
Weight:
250ml / 8.4 Fl. Oz.
Made in:
UK
Ingredients:
Water, Sodium Laureth Sulfate, Cocamidopropyl Betaine, Fragrance, Sodium Chloride, Phenoxyethanol, PEG-7 Glyceryl Cocoate, Benzyl Alcohol, Sodium Benzoate, Methylparaben, Benzophenone-4, Citrus Grandis (Grapefruit) Extract, Citric Acid, Disodium EDTA, Butylparaben, Ethylparaben, Isobutylparaben, Propylparaben, Denatonium Benzoate, Red 4.
Product Description
Mouth-watering soap-free cleansing with moisturizing pink grapefruit seed oil.
Actual Product Pic: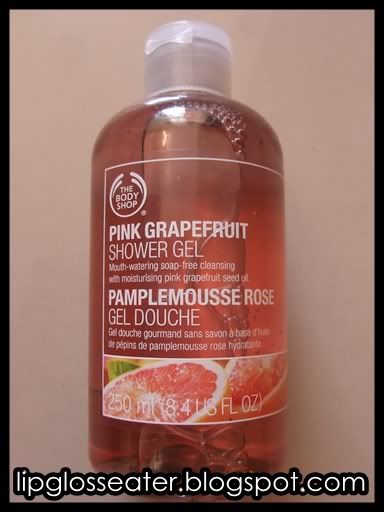 Texture & Scent:
This shower gel is not as runny as your usual shower gels, but it lathers up rather well. What i like about it is that it is not drying unlike some of the other shower gels from TBS! I really love the scent!! So fresh and it does smell a little like the 100 plus sports drink!! haha!!
Packaging: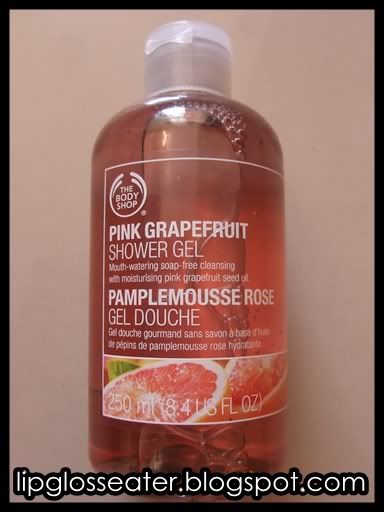 This shower gel comes in the usual squeezable bottle with a flip top cap.
The cap can be difficult to open in the shower sometimes!!
Price & Availability:
At RM24.90 / US$13 i think it is slightly expensive for the small amount you get! I usually stock these up during the annual sales :) This shower gel is available at all TBS brick and mortar stores and on Thebodyshop-usa.com
My $0.02:
This, along with the papaya and passionfruit ones are my favourite TBS shower gels!! The scent is so refreshing!! And i love how it doesn't leave my skin dry! The only gripe i have with this shower gel is how expensive it is! And TBS revise their prices so very often. If they raise the price any higher than it is right now, i will not repurchase anymore! :P
In a Nutshell:

A really nice smelling shower gel!! :D
Likes:
Lovely scent, not drying!
Gripes:
Expensive!!
Repurchase:
No
Rating:
! 4 Stars! Me Likey!! :D
Credits: Product photo from
Thebodyshop-USA.com