At a Glance:Price:
RM39.90 / US$14
Website:
Thebodyshop-usa.com
Weight:
8ml / 0.2 US FL. OZ.
Made in:
Italy
Ingredients:
Water, Glycerin, Phenoxyethanol, Panthenol, Acrylates/C10-30 Alkyl Acrylate Crosspolymer, Methylparaben, Aminomethyl Propanol, Red 33.
Product Description:
Best if you want to: Give cheeks a healthy glow and lips a wash of color with a dual-purpose stain that complements all complexions.

Best for: all skin tonesWhat it is designed to do:
* Gel-based formulation is fast drying and easy to blend.
* Glycerin and pathenol moisturize lips and improve hydration.
* Angled applicator brush and well on the stem pack is designed for easy application, while minimizing product spillage.
Actual Product Pic: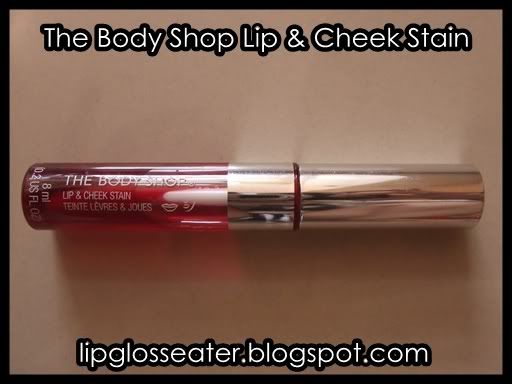 Ps: I will review this as a cheek stain, as i have never used them on my lips (don't intent to either!).
Pigmentation & Color (Plus Swatches! :D):
This cheek stain looks like a really dark cherry red in the tube, but it gives a very natural light flush when it's blended unto your cheeks! This goes on rather sheer though, so i need to apply it twice before i can see some color on my cheeks! The swatch below is achieved with 3 applications!
Swatches when wet:
When blended into skin: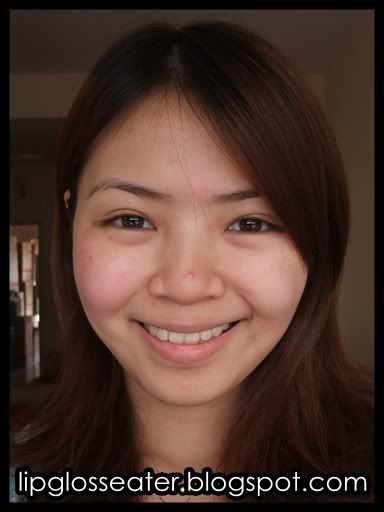 Left cheek with this cheek stain, right cheek is bare.
Packaging: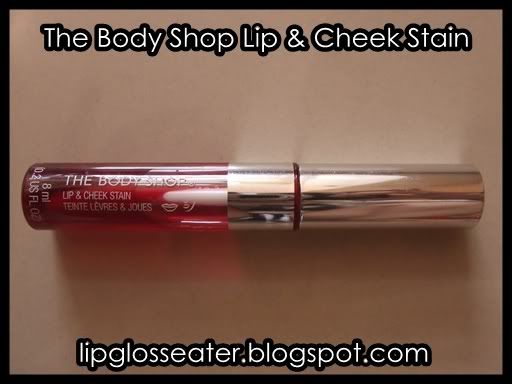 This cheek stain comes in a tube like a lipgloss, which i love because it's soo portable!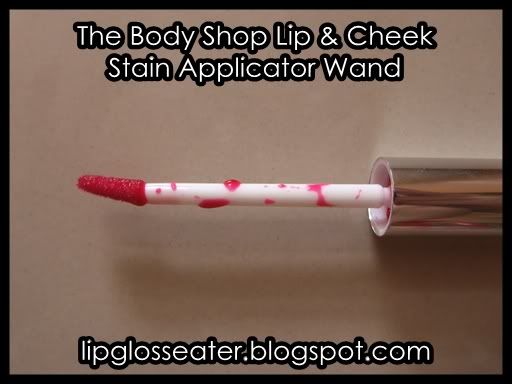 There's a sponge tip applicator wand attached to the cap, which works perfectly to apply the product on your cheek!
Texture:
This cheek stain looks rather gel-ish, but is quite fluid!
Time Test:
This lasts about 4 hours on my cheek before it starts to fade, which is a little shorter than what i'd like.
Price & Availability:
This product is priced at RM39.90 / US$14, which i think is rather reasonable! It's available at all TBS outlets and on Thebodyshop-usa.com!
Usage:
This is my travel blush!! I just love how portable it is!! :D
Here's a step by step guide on how to apply this (I use the Benetint method to apply this as well!):
Draw 3 vertical stripes on each cheek.
Blend it in gently and as quickly as possible with your ring finger. I usually blend it upwards (towards the top of my ear). Repeat if not pigmented enough.
The end result: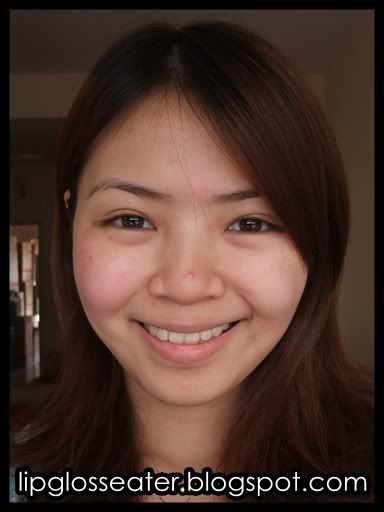 A natural flush!! (yeah, only the left cheek has it!)
Possible Dupes:
Alot of people claim that this is a great dupe for the famous and very-much-more-expensive Benetint! I happen to own both of this, so i dug them out for a comparison:
In their respective packagings, the TBS one appears to be more cherry colored, while Benetint is more towards dark bloody red.
When swatched, the TBS appears to be more berryish, while Benetint is a true red!
However, on the cheek, the two looks almost the same!!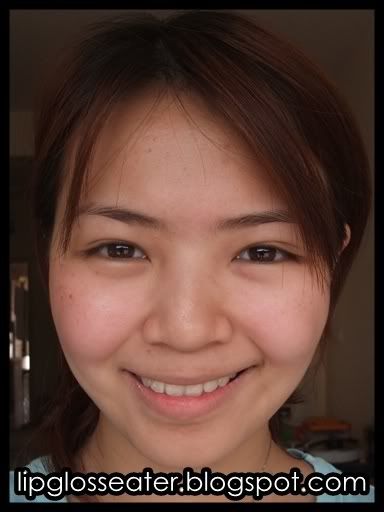 Benetint on the left and the TBS one on the right!
My camera cannot capture the colors well enough, but the TBS one is slightly lighter than Benetint when applied. It is also not as pigmented as Benetint, so i need to apply it several times for it to show up! Lastly, the lasting power of Benefit far surpasses the one of the TBS one (which starts to fade after 4 hours!)! :)
I, however, would travel with the TBS one though, cuz it's ultra portable and the packaging is sturdy enough to rough the ride out! I know benefit came out with the portable version (the Pocketpal), but $20 is too much to pay for that miniscule amount they offer! :D
Soooo, if you ask me whether this qualifies as a great dupe for Benetint, i would say YES and NO. Yes because they look almost the same color wise once applied on the cheek, no because the pigmentation and lasting power of the Benetint far surpasses this one! Benetint is a hundred bucks more expensive than this though, so if you're on a budget or simply do not want to spend so much on one cosmetic item, this is a great alternative! :)
You can read my Benetint review
here
:)
In a Nutshell:

A natural cheek tint that travels really well!!
Likes:
Really natural on the cheeks, ultra portable packaging
Gripes:
Only lasts about 4 hours on me :(
Repurchase:
Yes!
Rating:
4 Stars
! Me Likey! Would have been HG stuff if the lasting power is better! :D
Credits: Product photo from Thebodyshop-usa.com