At a Glance:
Price:
RM24.90 / US$13
Website:
Thebodyshop-usa.com
Weight:
250ml / 8.4 Fl. Oz.
Made in:
UK
Ingredients:
Water, Sodium Laureth Sulfate, Cocamidopropyl Betaine, Glycerin, Decyl Glucoside, Cocamide DEA, Sodium Chloride, Fragrance, Phenoxyethanol, Honey, Sodium Benzoate, Camellia Sinensis Extract, Propylene Glycol, Amyl Cinnamal, Benzophenone-4, Linalool, Butylphenyl Methylpropional, Disodium EDTA, Limonene, Citric Acid, Yellow 5, Blue 1.
Product Description
Revitalizing cleaning with Green Tea from China for all over floral freshness.
Actual Product Pic:
Texture & Scent: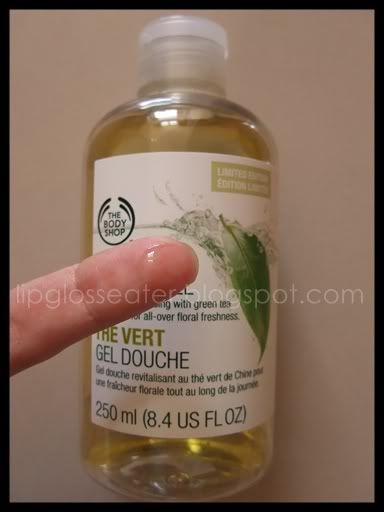 This shower gel is not as runny as your usual shower gels, but it lathers up rather well. This is one of the more moisturizing shower gels from TBS! Scent-wise, it is not your very traditional green tea scent - it smells something like Green Tea + Honey, which is really refreshing and yummy at the same time! :D
Packaging:
This shower gel comes in the usual squeezable bottle with a flip top cap.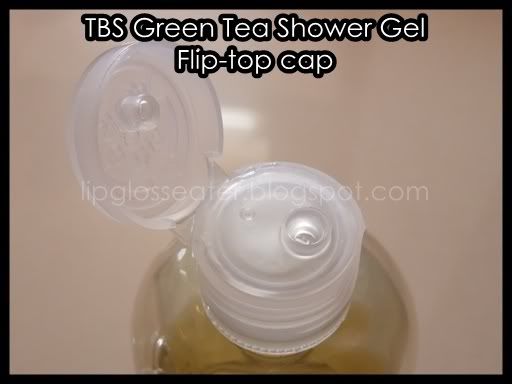 The cap can be difficult to open in the shower sometimes!!
Price & Availability:
At RM24.90 / US$13 i think it is slightly expensive for the small amount you get! I usually stock these up during the annual sales :) This shower gel is available at all TBS brick and mortar stores and on Thebodyshop-usa.com. Sadly, i think this is no longer available for sale, as it's LE! :(
My $0.02:
I got this shower gel during their annual sales, and regretted that i didn't buy more! Like all TBS shower gels, this one smells absolutely divine, and i'm surprised that it's quite moisturizing also! I love smelling myself after showering! haha!! I wish they would make this permenant though... i'll definitely repurchase!
In a Nutshell:

A really nice smelling shower gel!! :D
Likes:
Lovely scent, rather moisturizing!
Gripes:
Expensive!!
Repurchase:
Yes, if it's available again!
Rating:
! 4 Stars! Me Likey!! :D
Credits: Product photo from
Thebodyshop-USA.com