Warning: Very pic heavy!! 56k-ers beware!!
I'm back!! So the MAC store here has
FINALLY
brought in the Holiday Collections... a gadzillion years after it's been launched! *yawns* Ok, i know i'm exaggerating here, but i'm sure most MAC addicts can understand my frustration of waiting so long!!
So i wasted no time and immediately got started on checking the holiday collections out! I started with the Red She Said collection!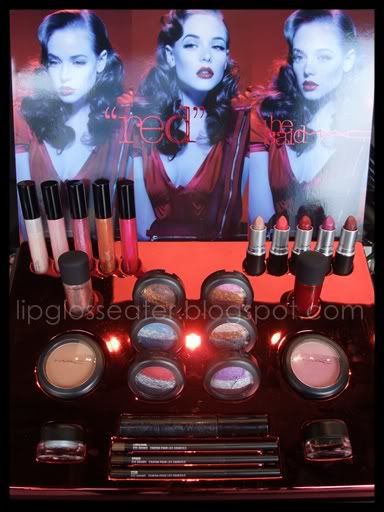 This collection is simply beautiful!! I personally think that this is a more wearable version of the Cult of Cherry collection (for me at least!). The colors from this range are really flattering for my skintone, and i had a hard time deciding which ones to get! Truth be told i would have gotten ALL of them if money grew on trees or in threes, but since it doesn't, i'll have to make do with the ones i thought i can't live without!!
Let's start with the Blushes! Both blushes are really beautiful and would look good on most skintones! Stark naked is a mid tone mauve / berry color and Enough Said is a light bronze! Both colors are shimmery and have a beautiful golden pearl sheen to them!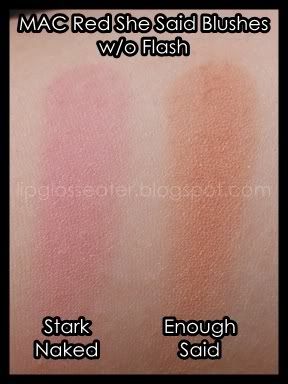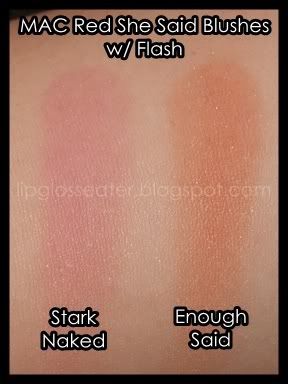 Next, i swatched the MESes. I'm surprised to find that they're quite smooth and pigmented, though i hated the chunky glittery "zipper" in between the colors. The bronze one is better than the silver one though in terms of smoothness, but still i wished MAC didn't put them in there!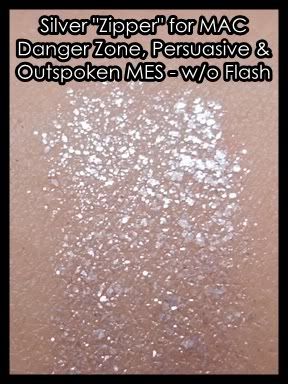 See how chunky the glitters are?? The glitters flew EVERYWHERE when i swatched it! They definitely reminded of the glitter my makeup artist dumped on my husband's and my hair during our wedding!! :S This is found in the Danger Zone, Persuasive and Outspoken MESes.
The bronze one is slightly better in terms of smoothness, but it's still bad! :( This is found in the Word-of-Mouth, Threesome and Inter-view MESes.
Of all the colors, Word-of-Mouth and Threesome have the smoothest texture... they just glide right on like a dream!! The darker shades for Persuasive, Danger Zone and Inter-view are slightly harder to blend though, and they looked quite blah to me, so you may want to test those out in person first before buying it!
Here're the swatches for the MESes minus their respective zippers.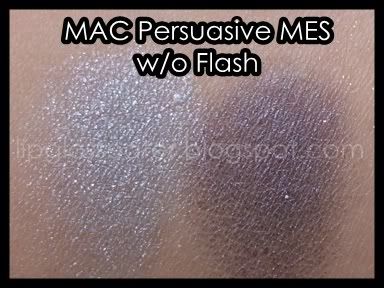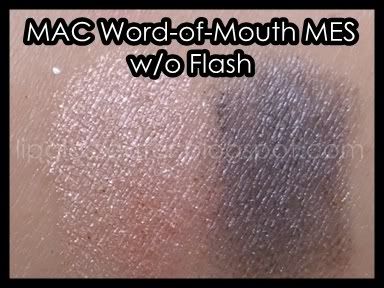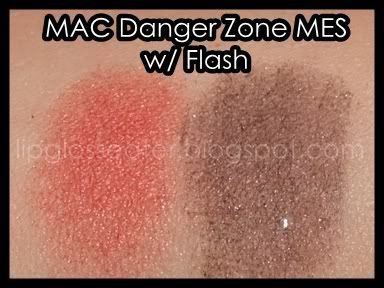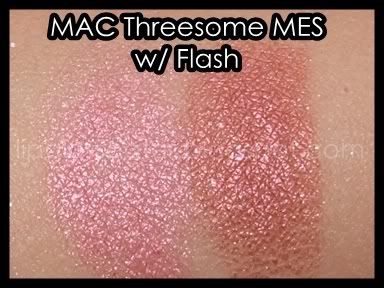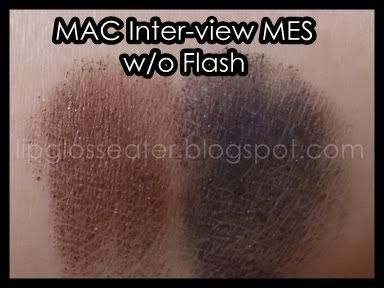 I went to MAC with the intention of getting Persuasive but in the end, i left without it. Reason being the darker shade really resembles Deep Truth and i don't think i need another dark blue shade in my collection!! The lighter shade can be duped by applying a shimmery silver es over Moon's Reflection, which has a much better texture than this. Also as mentioned, the darker shade ala the Deep Truth lookalike one is a little matte and hard to blend for my liking! So no MES for me this round! *shrugs*
Let's look at the lippies next! The lipsticks from this collection are just BEAUTIFUL!! I was soooo tempted to buy all of them!! I was really surprised by Crazeee - i was going to pass on it cuz it looks scarily bright in the tube... but once you applied it, it magically transforms to a really beautiful coral color! :)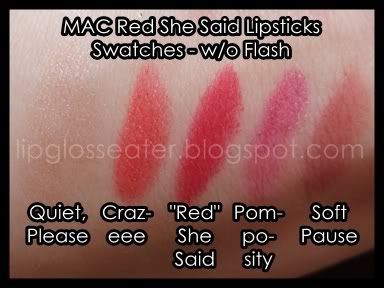 Last but not least, the Dazzleglasses!! Initially i was just going to pick up Sugarrimmed, but i had a reallllly hard time picking between Date Night and Love Alert. When swatched they look really similar to each other: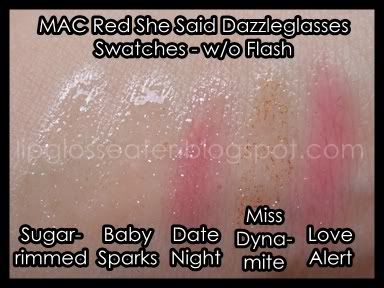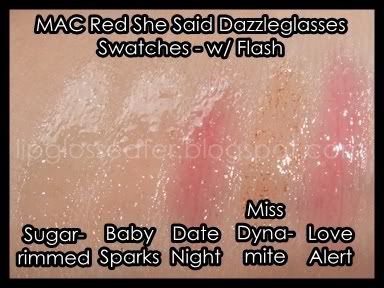 In the end, i picked the one that i thought would suit more lipsticks! You'll have read until the end to find out which one i took home with home! :D I was thoroughly disappointed with Miss Dynamite though - the glitters in it were just so chunky and big!! it's really a shame because it would have been a really beautiful gold lipgloss if the glitters were smaller and more refined!
Whoa, i typed ALOT! Are you still with me? Cuz i still have the Adoring Carmine collection to cover! Don't worry i'll be quick!! lol!!
I was soooooo disappointed with the Lip Bags!! IMHO, the packaging looks really cheap! Furthermore, the Red set is not Red enough, one lippie from the Neutral bag is realllllllly sheer, and the two Rose lippies look rather similar to each other! Needless to say, i didn't get anything from this collection! :(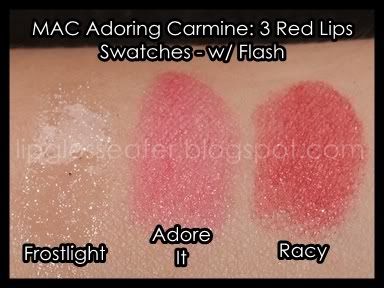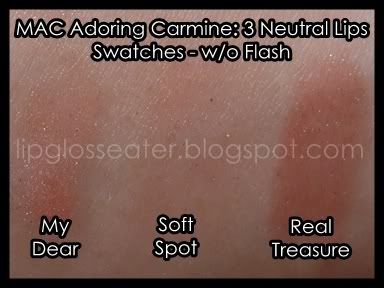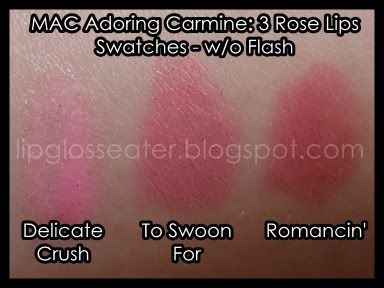 That's all for my review!! :) I don't intend to buy any brush sets or palettes this year hence i didn't check those out... besides, my arm was running out of "swatch space" already! lol!! :)
All the wayyyy up to my wrist!! haha!!
So what did i get in the end?
The MAC Holiday Booklet! lol!!
ok, shall stop teasing you all already! I got: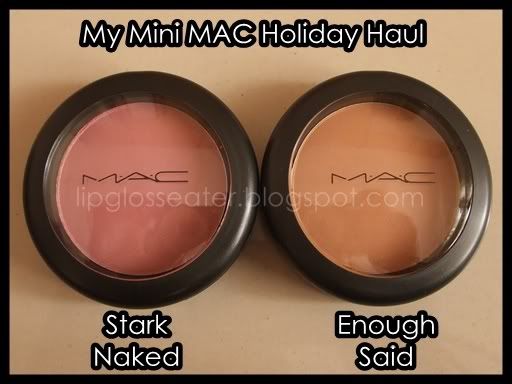 A family potrait: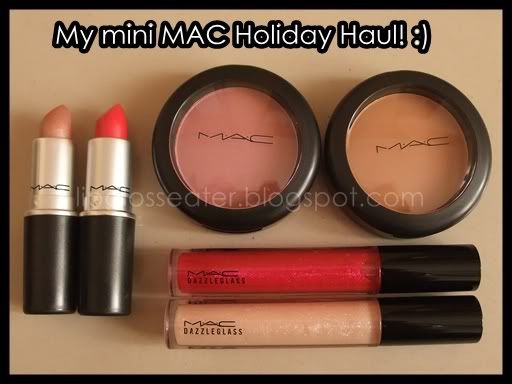 Yes... only these 6 items!! Now pat me on the back for my excellent self control already! hahaha!! XD
Btw, something happened whilst i was working on this entry! The husband quietly crept into the room and stole one of my dazzleglasses. I was soo engrossed that i didn't even notice it when i kept my newly acquired stuff!! We ordered pizza for lunch, so when the pizza arrived, i happily got out of my room to the dining table, only to see my Sugarrimmed Dazzleglass happily sitting on my dinner plate!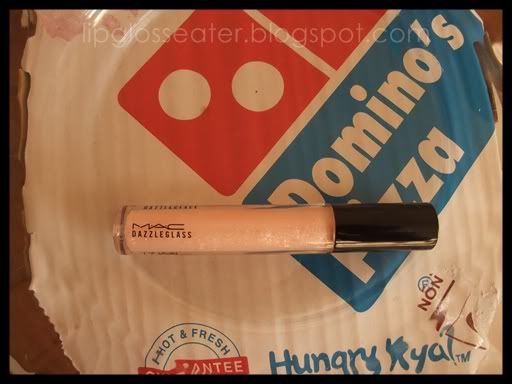 the husband then burst into laughter and said:
"You cannot eat pizza. You can only eat lipgloss, cuz you're a lipgloss eater!"
I dunno if i should laugh or smack that silly boy silly!! >.<