OMG... we
FINALLY
have a glimpse of what has been brewing in speculation for MONTHS!! *gasps for air*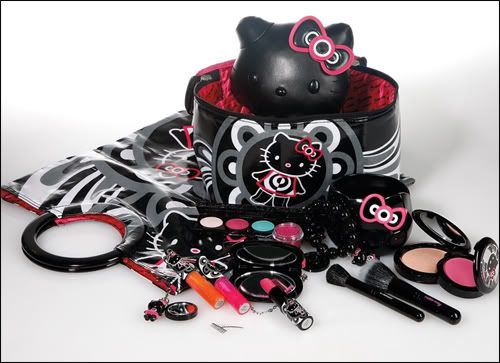 The Hello Kitty offerings fall into two collections: the Hello Kitty Colour Collection and the more high-end Hello Kitty Kouture. The bulk of the items are in the former category: six shades of lipstick with names like Fashion Mews and Strayin', each $14; six Lipglass shades, each $14; and two tinted lip conditioners, $14.50 each; two eye shadow palettes, which each contain four shades and retail for $38; two shades of pigment are $19.50 each, and two Reflects Glitter stockkeeping units — one blue, one pink — are $17.50 each. Four Glitter Eye Liners, each $16.50, two shades of Beauty Powder, each $22; three shades of nail polish, each $11; a black mascara, $12, and false lashes, $12, round out the color offerings. Shades range from pinks and turquoises to lavenders and greens.
Hello Kitty Kouture is intended to be the high end of the collection. Two shades of Dazzleglass, each $28, each feature a reusable silver chain pendant with Hello Kitty outlined in white Swarovski crystals on black with a pink crystal bow. Sheer Mystery Powder, $90 and available in three shades, is packaged in a silver powder compact with Hello Kitty outlined in white Swarovski crystals with a pink crystal bow on a black background.
The Hello Kitty Colour items, a Petite Makeup Bag, $22, and a medium Makeup Bag, $35, will be in all doors, currently about 581 department and specialty stores in North America including Nordstrom, Bloomingdale's and Macy's, as well as MAC's 138 freestanding stores in North America and at maccosmetics.com. Internationally, the items will be in 1,307 doors in 69 countries, including 296 MAC freestanding stores outside North America. Hello Kitty Kouture will be available at MAC stores and maccosmetics.com only. At the maximum, the collection will be available for eight weeks.
A plush doll, $42; purse mirror, $22, and three-brush collection, $49.50, will be available at MAC stores, Nordstrom doors and maccosmetics.com only. A mirrored key clip, $16; beaded bracelet, $34, will be sold in MAC retail stores and at maccosmetics.com only, and a tote, $45 and soft vanity kit, $55, will be exclusive to maccosmetics.com.
Source:
Temptalia.com
Let me be very frank to say that i'm NOT a Hello Kitty fan. In fact, one too many Kitties makes me wanna gag and barf my lungs out. But OMG... Compacts with Swarovski Crystals and Dazzleglasses with charms... i think i'm going to faint!!
It's Maggi Mee all the way for me until March next year. Still, will have check the items out in person first before deciding whether its worth forking out US$28 for a Dazzleglass or worse still, US$90 for compact!! *faints*
How about you... will you be getting anything from this collection? :D