I would like to say a BIG THANK YOU to all of you for your kind words and concern!! I'm definitely feeling better already, though the tummy is still weak! Should be fine and dandy again in a day or two!! Thanks babes!! :)
Anonymous
asked if there're any lipglasses or lustreglasses that compares to this dazzleglass in color.
I dug out all my lipglosses for a comparison, and found that the Sugar Trance (from Fafi) and the Cherry Blossom (from Cult of Cherry) lipglasses are the closest colors I have to the Baby Sparks dazzleglass: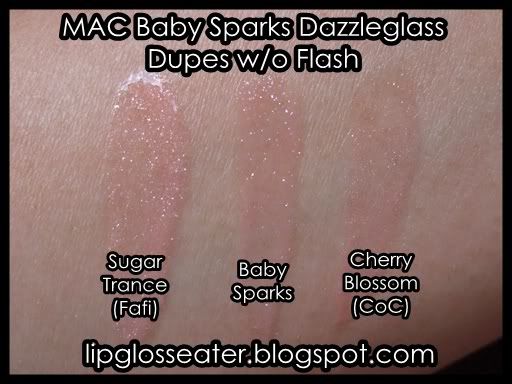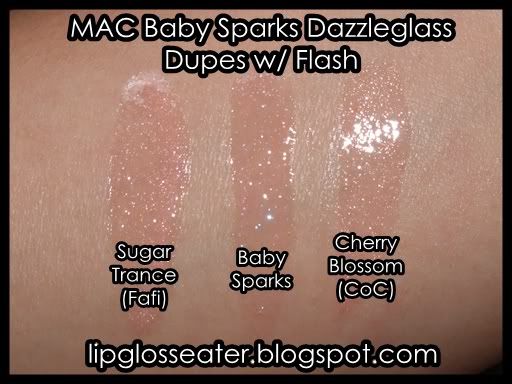 As you can see from the pics, all 3 swatches look quite similar. But if you scrutinize, you'll find that the other two lipglasses are slightly more peachy in color. Also, they do not have violet shimmers like the Baby Sparks dazzleglass do. And of course, they do not have the wonderful shimmery glitters common to the glosses in the Dazzleglass line.
Temptalia
names the Flusterose and Wonderstruck lustreglasses and the Bountiful plushglass as the closest colors to this dazzleglass. IMHO, you may want to check out the Underage lipglass too, since it's also described as a soft pale pink color on the MAC website too!
Hope that helps! :)