This is a simple tutorial on how to apply eyeshadow, as requested by
Winnie
:)
There're no hard and fast rules on what is the "correct" way of applying eyeshadows. As long as it works for you, it goes! The key to perfect eyeshadow application is to practise and experiment to find your "sweet spot"! :)
Ok, without further ado, here it is! I'll attempt to create a simple neutral smokey look that can work for both day and night! You'll need:
- an eye base / primer (optional, but highly recommended! these bases help the eyeshadows to adhere better to your eyelids, make them last longer on your lids, plus make the colors pop!)
- a blending brush
- 3 eyeshadows:
- one highlighter es (a creamy light beige is perfect)
- one lighter es
- one darker es for contrast
These are the stuff i used for my tutorial: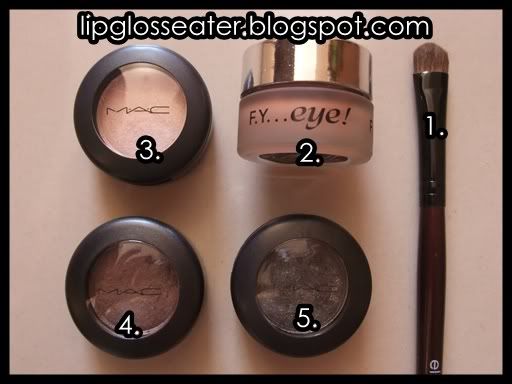 1. Elianto Blending Brush
2. Benefit F.Y.Eye! (primer)
3. MAC Solar White es (highlighter)
4. MAC Satin Taupe es (lighter es)
5. MAC Charred es (darker es)
Step 1: Scoop out a little eye primer with your ring finger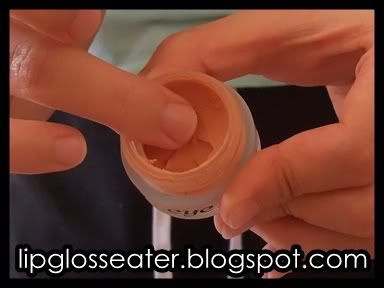 Step 2: Gently apply the primer to your lids with your ring finger. Blend it in so that there're no visible edges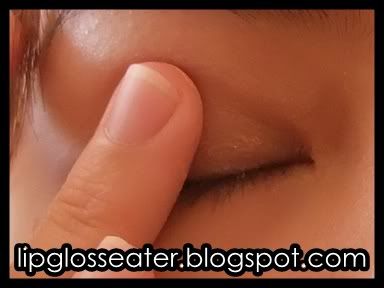 Step 3: With your blending brush, pick up the highlighter es from the pan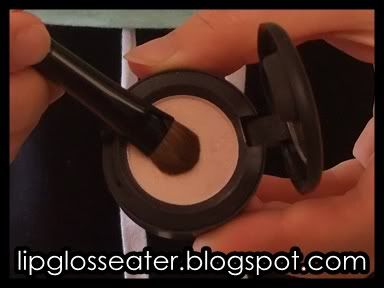 Step 4: Apply the highlighter es all over your lids, excluding the crease
Looks something like this now:
Step 5: Pick up the lighter es with your blending brush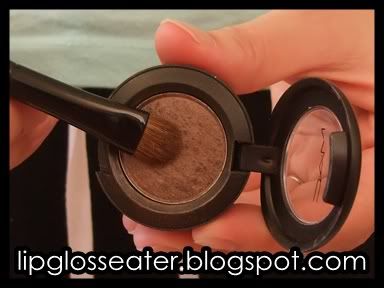 Step 6: Apply the lighter es on the inner half of your crease: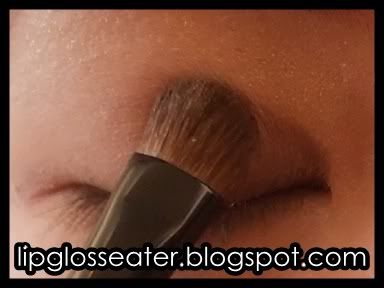 Looks something like this:
Eyes closed and opened
Step 7: Pick up the darker es with your brush and apply it to the outer half of your crease:
Step 8: Apply the darker es onto the fold of your crease too!
Apply eyeliner, mascara, and you're done! :) The final result: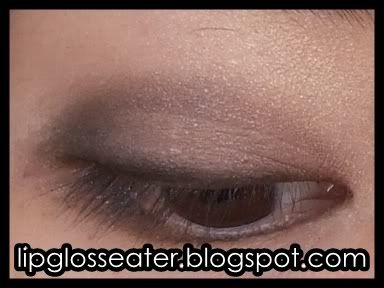 Looks subtle right? But look how different it is with and without eyeshadow: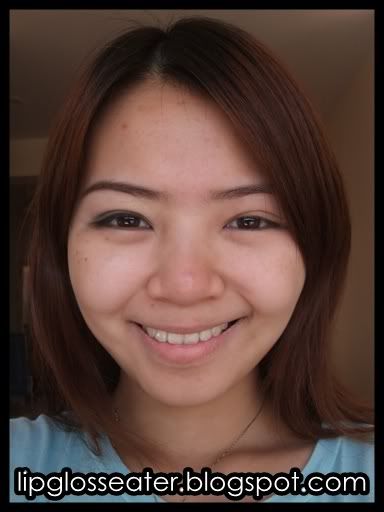 The shadows make my eye look deep set and defined! Oh makeup, how i love thee! :)
Hope this helps ya!! :D
ps: i know, i know, my skin is just horrible right now!! try not to stare at the huge zit on my nose that's threatening to turn me into Rudolph. My lower lip is soo chapped as well. I shalt not drink so much ever again :S