At a Glance:Price:
RM70 / US$16.50
Website:
Maccosmetics.com
Weight:
1.92 g 0.06 US oz
Made in:
USA
Ingredients:
N/A
Product Description:
Electro-pearl atoms blast their light as Lipglass gets the dazzle treatment. High-shine + large particle quartz and opal crystal captured in a great new formula with light-reflecting, crystalline iridescence. To be this dazzling: that's power.
Actual Product Pic:
My $0.02:
Pigmentation & Color (Plus Swatches! :D):
This color is described as a
Pale Pink with Violet Pearl
on the website, which I felt was rather accurate. By itself, it appears clear with lots of lovely subtle shimmers that's not OTT. The real magic happens when you pair it over lipstick (which you can see later!).
Swatch from the Mac Website:
Actual Color:
On my rather pigmented lips: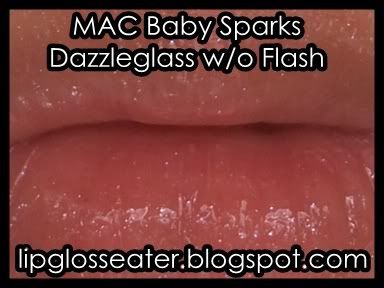 Can't really see anything right? No biggie, just pair it over a nude lippie:
I paired it over the Lollopop Loving lippie, and the pretty shimmers just enhances the whole lips! :D
The Applicator & Packaging:
This gloss comes with a brush instead of the usual sponge tip ones, which is ok for me (though i still prefer sponge tips...).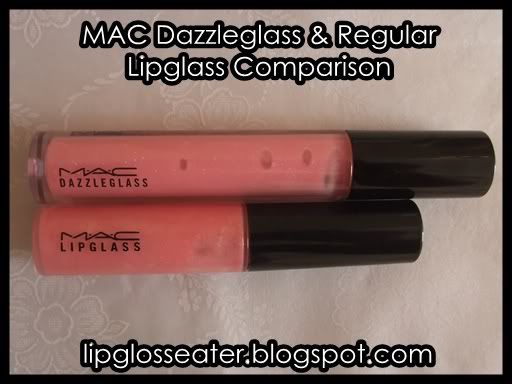 Though this gloss is longer than the usual lipglasses, DO NOT be deceived! You're actually getting alot less product than the usual lipglass!
Lipglass: 4.8g 0.17 US oz
Dazzleglass:
1.92g 0.06 US oz!!
That's less than half the usual amount!
Texture & Taste:
I was a little hesitant to get this at first because in my little mind, glitter = nasty sandpapery feel on your lips. Imagine my surprise when i tested this baby out - it felt no different from the usual lipglasses!! Thumbs up! It doesn't have any scent / taste as well, so it's definitely a huge plus for me! It is, a little stickier than the usual lipglasses though, but nothing major.
Time Test:
This lipglass lasted about for about 6 hours, which is amazing!! :D
Price & Availability:
This product is priced at RM70 / US$16.50 for a tube – which i think is a little expensive... BUT worth it cuz it's so pretty! haha! This is LE though, so grab one while you can! Available at all MAC counters / Pro Stores / Maccosmetics.com.
psssst: missed out on the previous launch? Fred not, they're repromoting this again together with the Red She Said collection due this Oct. DON'T miss it again! :D
Usage:
It doesn't do much on its own, but it looks fabulous over lipsticks!!
In a Nutshell:

A super pretty gloss that enhances your lipstick beautifully!! I've yet to find one lipgloss that's prettier than this!! :D
Likes:
Super pretty when layered over lipsticks
Gripes:
The miniscule amount you get
Repurchase:
In a heartbeat!
Rating:
5 Stars
! HG Stuff!
Credits: Product photo from Specktra.net. Swatch from Maccosmetics.com