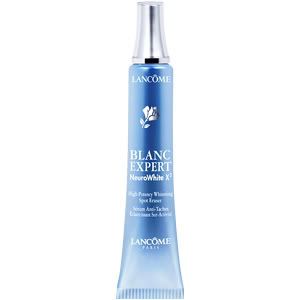 At a Glance:Price:
RM300 (approx. US$88)
Website:
Lancome.com.sg
Weight:
30ml
Made in:
France
Ingredients:
Aqua / Water, Butylene Glycol, Glycerin, Cyclopentasiloxane, Isononyl Isononanoate, C13-14 Isoparaffin, Tocopheryl Acetate, Tocopheryl, Sodium Hyaluronate, Hydroxyisohexyl 3-Cyclohexene Carboxaldehyde, Stearic Acid, Phenoxyethanol, Stearyl Alcohol, PEG-100 Stearate, Fagus Sylvatica Extract / Fagus Sylvatica Bud Extract,Ethylparaben, Triethanolamine, Ellagic Acid, Polyacrylamide, Salicylic Acid, Poloxamer 184, Xanthan Gum, Benzyl Salicylate, Ginko Biloba / Ginko Biloba Leaf Extract, Linalool, Mentha Peperita / Peppermint Leaf Extract, Alpha-Isomethyl Ionone, Myristyl Alcohol, Rosa Centifolia / Rosa Centifolia Flower Extract, Cetyl Alcohol, Methylparaben, Tetrasodium EDTA, Butylphenyl Methylpropuinal, Laureth-7, Glyceryl Stearate, Glycine Soja / Soybean Oil, Glycyrrhiza Glabra / Licorice Root Extract, Parfum / Fragrance.
Product Description
New Neurowhite X3 Whitening essence to deliver high efficiency even on the most stubborn spots. Triple whitening impact thanks to the potent combination of NeuroWhite™ System and Ellagic Acid.

Apply and massage all over your face on perfectly cleansed skin, before your usual skin care routine.
Actual Product Pic: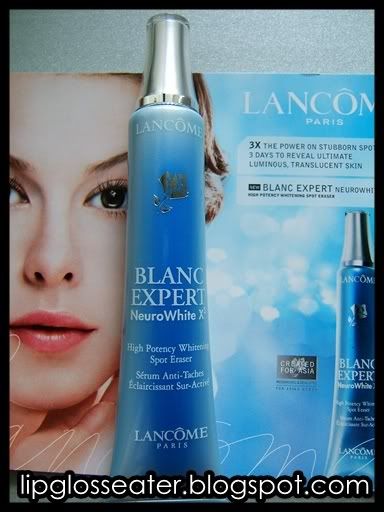 My $0.02:
Texture & Scent:
This spot corrector is quite creamy (yet not as runny as the emulsion) and spreads easily on your face! The scent for this product is the faintest among all.
Packaging:
This spot corrector comes in a squeeze tube with a tapered tip, so you can dispense the exact amount you want! It's quite slim as well, so it travels well!
Price & Availability:
At RM300 (approx. US$88), i would say that it's very expensive. I, however, only use it on my freckles, so one tube can last me more than a year, so it's stilllll alright. :P It's available at all Lancome counters in Asia.
Usage:
Cuz it's so expensive, i only apply it on my freckles! Whenever i'm exposed to the sun the whole day (eg. a roadtrip or beach holiday), i just dab a generous blob onto my dots and the newly formed ones will disappear by the next day! :D
Product Efficiency:
Being half Shanghainese, I have fair genes that burn / pigment easily. My freckles used to be quite bad, but after using this religiously for 2 years, they have faded quite abit! I know they would not disappear got good (only laser does that! lol!), but i'd be happy if they can be faded further and do not get worse. The effects of this spot corrector can be seen from day 3 onwards!
Left: 2006, Right: Today :)
As you can see, the spots in 2006 are so black and intense, while the ones taken today are slightly lightened. I took today's picture in natural light, otherwise IRL, they're even lighter! Sometimes you can hardly see them if i have foundation / blush on! Of course, this is coupled together with a SPF50 PA+++ sunblock daily (SPF130 when i go on holidays / roadtrips) and avoiding the sun as much as i can.
In a Nutshell:

My HG Spot Corrector!! It's the only thing that has worked on my stubborn spots (believe me i have tried soo many lighteners, even 4% Hydroquinone which didn't work for me!!)! I can't live without it! :P
Likes:
Effectively lightens pigmentations!
Gripes:
Very expensive!
Repurchase:
Within a heartbeat!! I can't live without it!!
Rating:
5 Stars! HG Stuff!!
Psssst: Lancome repackaged this as well: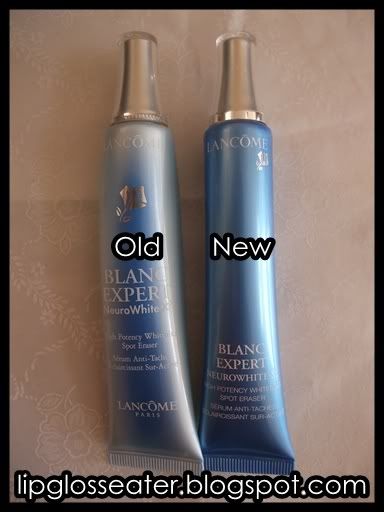 But no worries, the ingredients, amount and price are exactly the same! :)
Credits: Product photo from
Lancome.com.sg
View reviews for other products in the Neurowhite X3 range:
Lancome Blanc Expert Neurowhite X3 Ultimate Whitening Purifying Foam
Lancome Blanc Expert Neurowhite X3 Ultimate Whitening Beauty Lotion - Moist
Lancome Blanc Expert Neurowhite X3 Ultimate Whitening Hydrating Emulsion - Moist
Lancome Blanc Expert Neurowhite X3 Ultimate Whitening Night Essence & Targeted Whitening Night Fusio-Patch