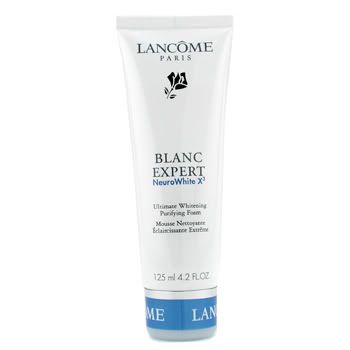 At a Glance:Price:
RM120 (approx. US$35) / US$38 on
Strawberrynet.com
Website:
Lancome.com.sg
Weight:
125ml 4.2FL OZ
Made in:
France
Ingredients:
Aqua / Water, Sodium Cocoyl Clycinate, Coco-Betaine, Glycerin, Sodium Chloride, Triethanolamine, CI77891 / Titanium Dioxide, Acrylates / C10-30 Alkyl Acrylate Crosspolymer, Sodium Benzoate, Hydroxyisohexyl 3-Cyclohexene Carboxaldehyde, Phenoxyethanol, PEG-14M, Ethylparaben, Salicylic Acid, Polyquaternium-39, Benzyl Silicylate, Linalool, Ginko Biloba / Ginko Biloba Leaf Extract, Mentha Piperita / Peppermint Leaf Extract, Propylparaben, Isobutylparaben, Alpha-Isomethyl Ionone, Rosa Centifolia / Rosa Centifolia Flower Extract, Methylparaben, Butylparaben, Butylpenyl Methylpropional, Glycol Distearate, Glycyrrhiza Glabra / Licorice Root Extract, Parfume / Fragrance.
Product Description
This gentle cleanser lathers quickly, gently washes off dead skin cells charged with melanin and cleanses the pores easily. The exclusive Neurowhite™ System helps to enhance the skin's transparency and radiance. Wash off with tepid water.
Actual Product Pic: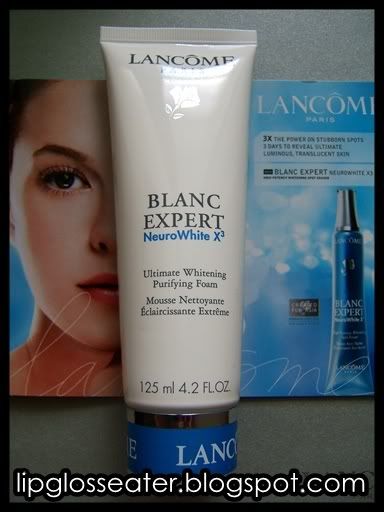 My $0.02:
Texture & Scent:
This cleanser is rather runny, so be really careful when you open the cap for the first time! I spilled some on the bathroom floor because i didn't expect it to be so runny! It foams up well though, so just a little bit is enough to cover my entire face. The fragrance in this product is quite strong (but pleasant), so people with sensitive skin should stay far, far away from this one!! It is quite drying for my normal / combi-dry skin as well!
Packaging:
This cleanser comes in your regular squeeze tube. I have, however, two major gripes about the packaging:
1st up, the fragile cap: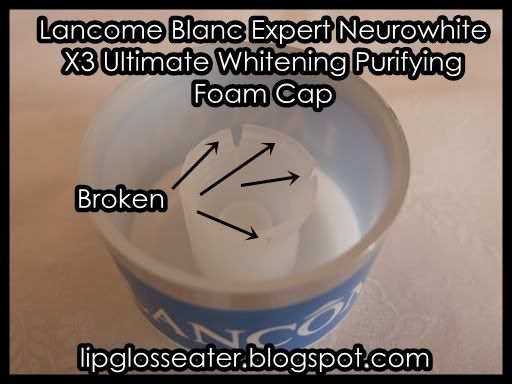 I've read how the cap breaks after awhile, so i'm really careful to not overtighten the cap. Despite that, it still broke after awhile, which is really annoying because it caused alot of wastage!!
2ndly, the large dispensing hole:
This product is quite runny, so it's ridiculous to put such a huge hole there. Doesn't help that my cap is broken now hence it cannot close properly causing alot of product to leak out! Grrr!! i have to resort to storing this lying down instead of upright to prevent more wastage!
Time Test:
I always follow up with moisturizer after washing my face with this cleanser, so i don't really know how long does it take before my face is shiny again!
Price & Availability:
At RM120 / US$35, i think this is a rather expensive cleanser! It's available at all Lancome counters in Asia, and on
Strawberrynet.com
.
Usage:
I usually use this in the shower, or after i remove my makeup. It does cleanse pretty well!!
In a Nutshell:

A whitening cleanser that cleanses and brightens the overall complexion, but is rather drying and expensive. The packaging sucks as well!
Likes:
Cleanses throughly, brightens skin with continued usage
Gripes:
Expensive, rather drying, the horrible packaging!
Repurchase:
No!!
Rating:
2.5 Stars! Does what it says well, BUT is far too drying for me!
Credits: Product photo from
Strawberrynet.com
pssst: I will be reviewing most products from this line, so stay tuned! :D
View reviews for other products in the Neurowhite X3 range:
Lancome Blanc Expert Neurowhite X3 Ultimate Whitening Beauty Lotion - Moist
Lancome Blanc Expert Neurowhite X3 Ultimate Whitening Hydrating Emulsion - Moist
Lancome Blanc Expert Neurowhite X3 High Potency Whitening Spot Eraser
Lancome Blanc Expert Neurowhite X3 Ultimate Whitening Night Essence & Targeted Whitening Night Fusio-Patch