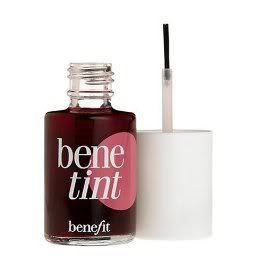 At a Glance:Price:
RM139 / US$28
Website:
Benefitcosmetics.com
Weight:
12ml 0.4 US FL. Oz.
Made in:
USA
Ingredients:
Water, Rosewater, Glycerin, Quaternium 15, Carmine
Product Description:
It's the original and still the best rose-colored cheek and lip tint. Kiss-proof and water-proof, this indelibly sheer tint gives you an innocent, yet provocative glow that will keep everyone guessing "what has she been up to?"
Actual Product Pic: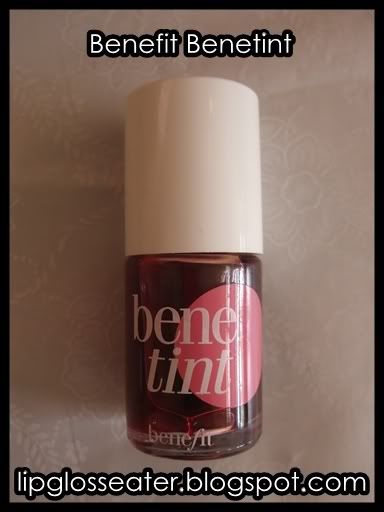 My $0.02:
Ps: I will review this as a cheek stain, as i have never used them on my lips (don't intent to either!).

Pigmentation & Color (Plus Swatches! :D):
This cheek stain looks scarily red in the bottle, but once blended unto your skin, it gives you the most natural just-finished-excercising flush! It's rather pigmented though, so do not overapply unless you like looking like a clown!! haha!
Swatches when wet:
When blended into skin:
Benetint on the left, right is bare. It's so natural right? :D
Packaging: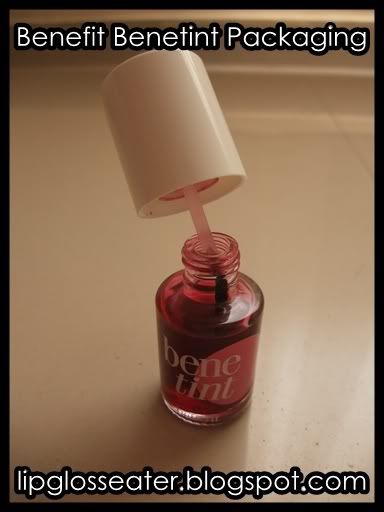 This cheek stain comes in a nail polish like bottle with a brush attached to the cap. It's not very travel-friendly i heard, and the cap cracks easily, so be careful not to overtighten it!
The attached brush works beautifully to apply product unto your cheeks!
Texture:
This cheek stain is watery, so the trick is to be quick! :D
Time Test:
This lasts the whole day on my cheeks, which is really amazing! :D
Price & Availability:
This product is priced at RM139 / US$28, which i think is ok for what it offers! It's available at all Benefit Counters worldwide, and on Benefitcosmetics.com!
Usage:
I usually wear this under my powder blushes to make sure that i have some color left when the powder blush fades. Sometimes i just wear it on it's own for a natural look! :D
Here's a step by step guide on how to apply this:
Draw 3 vertical stripes on each cheek.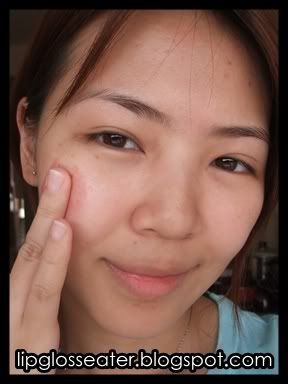 Blend it in gently and as quickly as possible with your ring finger. I usually blend it upwards (towards the top of my ear). Repeat if not pigmented enough (i usually only do this once per cheek though!).
The end result:
A natural flush!! (yeah, only the left cheek has it!)
Possible Dupes:
This has been compared to alot with the Lip & Cheek Stain 01 from The Body Shop. I happen to own this, so i dug it out for a comparison:
In their respective packagings, the TBS one appears to be more cherry colored, while Benetint is more towards dark bloody red.
When swatched, the TBS appears to be more berryish, while Benetint is a true red!
However, on the cheek, the two looks almost the same!!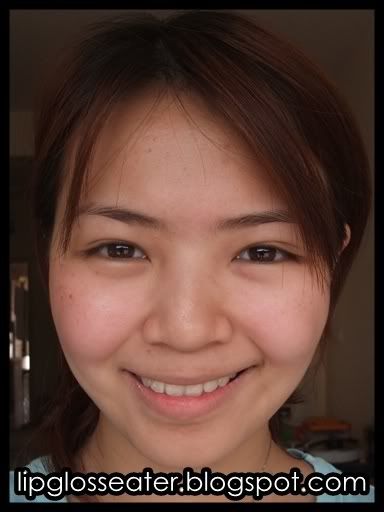 Benetint on the left and the TBS one on the right!
My camera cannot capture the colors well enough, but the TBS one is slightly lighter than Benetint when applied. It is also not as pigmented as Benetint, so i need to apply it several times for it to show up! Lastly, the lasting powder of Benefit far surpasses the one of the TBS one (which starts to fade after 4 hours!)! :)
I, however, would travel with the TBS one though, cuz it's ultra portable and the packaging is sturdy enough to rough the ride out! I know benefit came out with the portable version (the Pocketpal), but $20 is too much to pay for that miniscule amount they offer! :D
In a Nutshell:

A beautifully natural cheek tint that lasts the whole day!!
Likes:
Really natural on the cheeks, lasts the whole day!
Gripes:
The fragile packaging
Repurchase:
Yes!
Rating:
5 Stars
! HG Stuff!!
Credits: Product photo from Benefitcosmetics.com