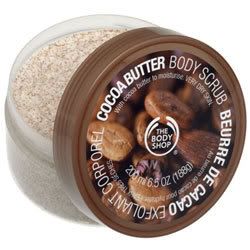 At a Glance:Price:
RM59.90 / US$20
Website:
thebodyshop.com
Weight:
200ml / 6.7 oz (190g)
Ingredients:
Sodium Chloride, Helianthus Annuus (Sunflower) Seed Oil, Prunus Amygdalus Dulcis (Sweet Almond) Oil, Cocos Nucifera (Coconut) Oil, Sucrose, Silica, Glycine Soja (Soybean) Oil, Dimethicone, Fragrance, Phenoxyethanol, Glyceryl Stearate, PEG-100 Stearate, Benzyl Benzoate, Tocopherol, Coumarin, Butylphenyl Methylpropional
Product Description
Embrace your softer side with a creamy, chocolate-scented scrub that has exfoliating ground rice and almond shell powder.
Actual Product Pic:
Texture & Scent: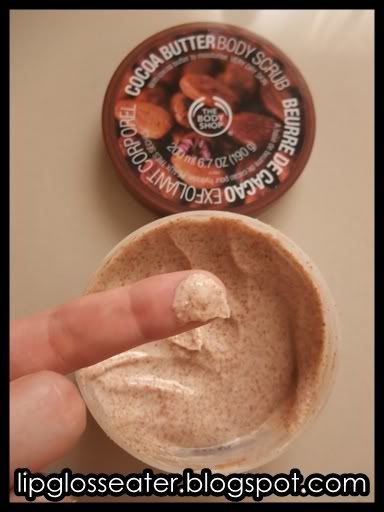 This brown body scrub has lots of tiny particles (should be the crushed almond shells?) and is quite scrubby, so do be gentle while exfoliating yourself in the shower! The scent however, is sooo overpowering! *gasps for breath* The chocolate-buttery smell is quite nauseating actually, though i'm a huge chocolate fan!! I wish they would tone down on the fragrance!! Phew!!
Packaging:
This mask comes in a screw top pot as you can see, which i'm ok with, though i wish it came in a squeeze tube for hygenic reasons.
Time Test:
This makes my legs buttery smooth, and that lasts for a day or two :)
Price & Availability:
At RM59.90 / US$20, it is on the expensive side, though you get quite a lot of product! This is available at all TBS brick & mortar shops, as well as their official website (
thebodyshop.com
).
Usage:
I use this as it is, a body scrub! I heard that it's a great pre-shave treatment too, so girls who shave your legs may want to try this prior to shaving! :D
My $0.02:
This scrub performs beautifully!! I have dry scaly legs from sitting in an air-conditioned room all day long (and i don't moisturize *faints*). After 2 uses my legs are smooth again!! :D It's rather moisturizing too! I, however, HATED the smell cuz it's REALLY overpowering... it's soo sickly sweet that it's just gag-inducing!!
In a Nutshell:

A wonderful body scrub that stinks! lol!
Likes:
Effective!!, moisturizing, easily available
Gripes:
The PONG!
Repurchase:
Yes
Rating:
! 4.5 Stars! Near HG Stuff! (Would have been HG stuff if it wasn't for the smell!!)
Credits: Product photo from
thebodyshop.com