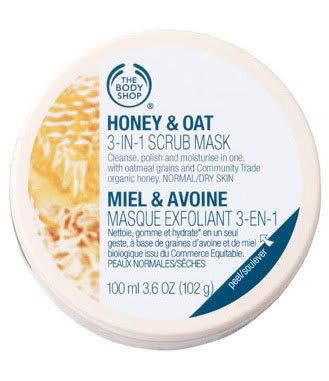 At a Glance:Price:
RM55 / US$16.50
Website:
thebodyshop.com
Weight:
100ml / 3.6 oz (102g)
Ingredients:
Water, Oat (Avena Sativa) Bran, C12-15 Alkyl Benzoate, Kaolin, Honey, Glyceryl Stearate, Butylene Glycol, PEG-100 Stearate, Myristyl Myristate, Behenyl Alcohol, Glycerin, Hydrogenated Coco-Glycerides, Sodium Lactate, Benzyl Alcohol, Phenyl Trimethicone, Titanium Dioxide, Biosaccharide Gum-1, Phenoxyethanol, Hectorite, Sodium PCA, Fragrance, Saccharide Isomerate, Methylparaben, Butylparaben, Ethylparaben, Propylparaben, Citric Acid, Caramel.
Product Description
Triple action in double time. Smoothes and conditions normal to dry skins with natural kaolin clay, oatmeal and organic Community Trade honey.
Actual Product Pic:
My $0.02:
Texture & Taste: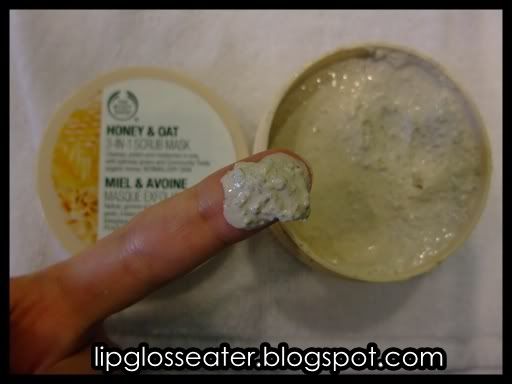 This gooey mask spreads on smoothly, which is great because that means you only need a little product at any one time. It has rather chunky bits in it (which i assume are oat brans), but they don't hurt at all when you scrub your face with it. This mask doesn't really dry 100%, which doesn't really matter because i'm gonna wash it away anyways. Well i haven't accidentally tasted it yet (LOL!), so i don't know how it tastes like. It does have this typical Oat + Honey scent which can be quite overpowering, but i got used to it somehow.
Packaging:
This mask comes in a screw top pot as you can see, which i'm ok with, though i wish it came in a squeeze tube for hygenic reasons.
Time Test:
5-10 minutes is all it takes to use this mask, which is fantastic! :)
Price & Availability:
At RM55 / US$16.50, it is on the reasonable side :) As with most TBS products, the portion you get is generous, and should last you for at least half a year if you use it sparingly (believe me, a little of this goes a long way!). This is available at all TBS brick & mortar shops, as well as their official website (
thebodyshop.com
).
Usage:
It's really simple, just smooth a thin layer onto your face, applying slightly more product on your problem areas (for me they're my T-Zone and chin). An ugly pic to show you how it looks like after this goodie is plastered on your face: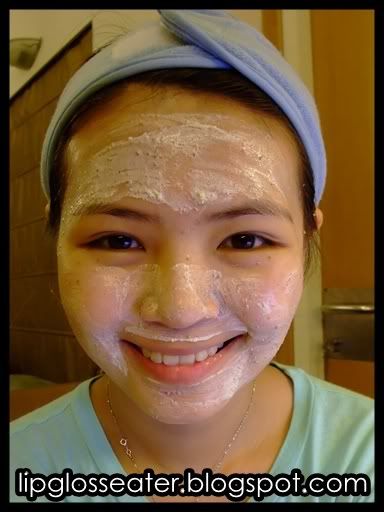 Laugh la... :P
Sit back and relax for 5-10 minutes. I do feel a very slight stinging sensation after 5 minutes, but it doesn't bother me. When the time is up, wet your palms and massage the semi-dry mask around for abit, then rinse it off with warm water. Pat your face dry and say hello to soft, clean and glowy skin: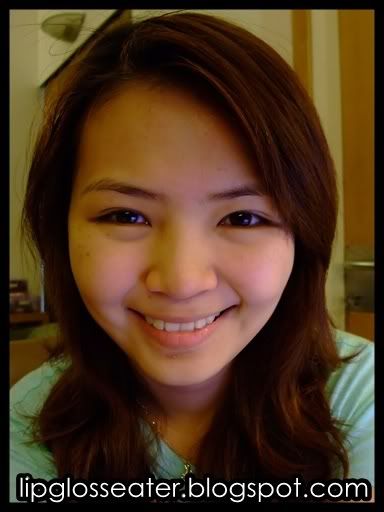 ps: you don't have to follow up with a moisturizer after this because i feel it's quite moisturizing already! :)
In a Nutshell:

A wonderful deep cleansing mask that performs beautifully at an affordable price!
Likes:
Cleans, scrubs and moisturizes in one easy step, easily available
Gripes:
Hmmm, none so far. Maybe they can repackage this to come in a tube instead of a tub?
Repurchase:
YES! :)
Rating:
! 5 Stars! HG Stuff!

Credits: Product photo from
thebodyshop.com