Attempted to recreate the Heatherette look my usual MAC MA Joanne created for me sometime ago! I don't have a purple shadow so i'll settle for blue! Still finding the courage to wear such a bright barbie pink lippie outdoors! :)
Joanne and Me! :D
Isn't she pretty? :D Sighhh, looking at this pic makes me miss my waist long hair!! :(
Joanne taught me a trick - if you don't want your eyelids to look swollen in pink, just go with an ultra thick line on your lids. also, try to draw a "round" line whereby the center of the line is thicker than the rest! It does work! :)
My attempt at this cutesy look... i decided to make the pink a surprise element - it's only visible when i blink! lol!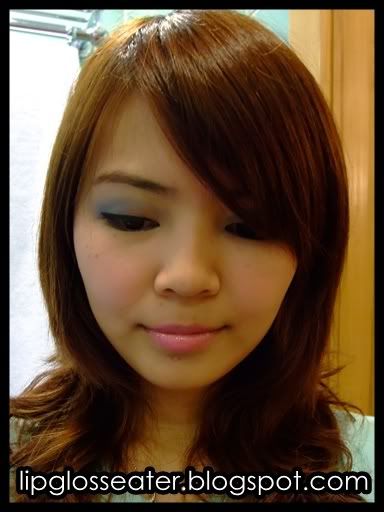 Now you see me!
Now you don't! :D

Stuff i used:
Face:
Loreal Translucide LP in 01 Light Translucent
Benefit Georgia (all over face to brighten up my complexion)
Cheeks:
Mac Sweetness Beauty Powder
Benefit Dallas (contour)
Brows:
Maybelline Line N' Design Brow Pencil in Dark Brown
MAC Brow Set in Beguille
Eyes:
TBS Ultra Smooth Concealer in 03
MAC Sonic White es (highlight)
MAC Pink Venus es (inner crease)
MAC Moonflower es (outer crease and contour)
Loreal Superliner in Noir (upper lashline)
Maybelline Line n' Design Auto Eyeliner in Dark Brown (lower lashline)
Silkygirl Funky Eyelights Pencil in 08 Frosty Silver (inner lower lashline)
Lips:
MAC Melrose Mood lippie
MAC Startlet Kiss lipglass
I
STILL
think that this is too dolly to wear outside :P
On a separate note, i
finally
finished using my first MAC item, the Earthline Technakohl:
Yay, 5 more items to go before i can B2M for a lippie, lol!!