Product Name:
Kate Mascara Base
Price:
¥900 / RM29.90
Website:
http://nomorerules.net/
Weight:
5g
Product Description:
Any Japanese Whiz care to translate the above statement? :D
Actual Product Pic: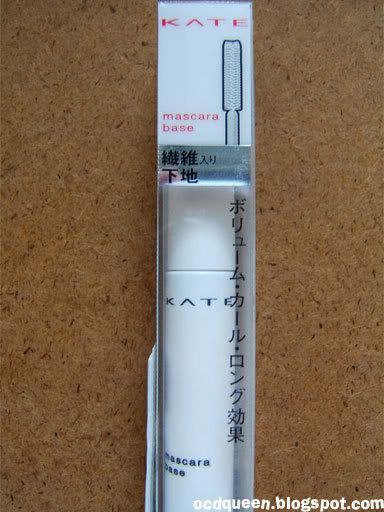 The Packaging it came in
The actual tube :) hmmm... it does look a little different from the one on the website.
Ingredients: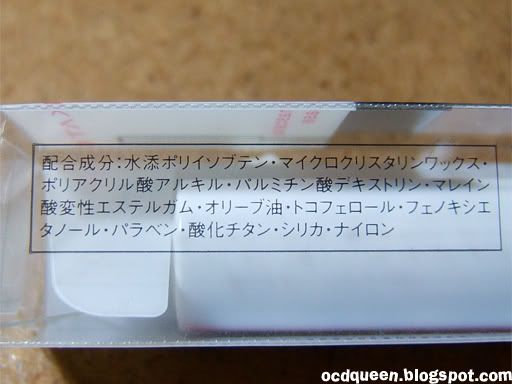 Anybody care to translate this? :D
The Applicator:
Swatch: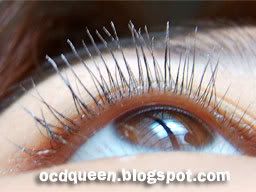 See how long it makes my eyelashes? :D
My Review:
This highly raved mascara base does deliver!! It made my lashes both fuller and longer. This stuff is fragrance free - which is great for me. i don't know why most mascaras smell so funky! It goes on smoothly so you can decide how many layers you wanna pile on to achieve the desired effect. You can't beat the price either!! :) The downside is, it does clump a little if you use it with a volumizing mascara. Yuck!
Pictures to proof:
Bare Eye:
Without Kate Mascara Base (Used ZA Cutie Curl Volume):
With Kate Mascara Base + ZA Cutie Curl Volume:
A whole world of difference right? i don't like how clumpy it is though... will try it with a lenghtening mascara instead of a volumizing one and see if this improves.
In a Nutshell:
A drugstore product that delivers!! :)
Likes: Lengthens and Volumizes very well, fragrance free, ease of application, Price!!
Gripes: Clumps when used with a volumizing mascara :P
Rating: 4 Stars
! Near HG Stuff!! :)